Tencent 'wins approval' to release Mario Bros. U Deluxe in China
Nintendo Switch's Chinese launch seemingly edging closer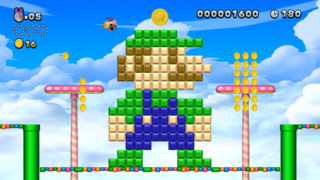 Nintendo Switch's Chinese launch is seemingly drawing closer after a localised version of Super Mario Bros. U Deluxe was approved for release in the country.
China's State Administration of Press, Publication, Radio, Film and Television recently approved several imported games for release, including Super Mario Bros. U Deluxe, Bloomberg reports.
While Switch was approved for sale in China in April, two years after its release in the West, it's still unclear when the console will launch in the country.
During a joint press conference in August, Nintendo and Tencent announced they're working together to localise Switch games for the Chinese market.
It was also confirmed that the Chinese tech giant will assist Nintendo in setting up a localised network service through Tencent Cloud.
The Chinese Nintendo eShop will support Tencent's WeChat payment service, "lowering the threshold for purchase and reducing cross-border procedures", the companies said on Chinese social media platform Weibo.
"In addition, Tencent is also planning to assist Nintendo in setting up offline purchase channels and player exchange centers."
Nintendo has previously released the N64 and Nintendo 3DS XL in China under iQue branding.
However, traditional consoles including those from Xbox and PlayStation have struggled to catch on in the region, with PC and mobile dominant.