Telltale Games brand to relaunch under new ownership
LCG Entertainment purchases key assets, tech and select IP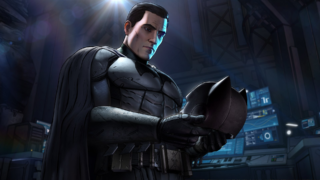 The Telltale Games brand is making a comeback under new ownership.
Holding company LCG Entertainment, which will do business as Telltale Games, said on Wednesday it has acquired the defunct studio's key assets, trademarks, technology, and select intellectual properties.
It plans to re-release several back-catalogue titles and develop new entries in some of Telltale's most popular series.
Several industry figures including Chris Kingsley (Rebellion) and Lyle Hall (Heavy Iron Studios) provided financial backing for the acquisition, as did Athlon Games, which will serve as the publisher of future Telltale titles.
"Key talent from the original company has been hired or contracted by the new Telltale," which is headquartered in Malibu and led by CEO Jamie Ottilie and chief revenue officer Brian Waddle, according to today's announcement.
Ottilie told Polygon some workers from the original Telltale will initially be offered freelance roles, with full-time positions a possibility down the line.
The company has back-catalogue rights to licensed properties The Wolf Among Us and Batman, plus full rights to original Telltale games such as Puzzle Agent. "There are some other expired licenses that we're looking at," he said.
The Walking Dead license is now owned by Skybound, while the rights to a previously planned Stranger Things game have reverted to Netflix.
Various digital storefronts began removing Telltale products from sale when the company went into liquidation in November 2018.
"All of us were big fans of the games Telltale created, as we strongly believe in games as a storytelling medium and nobody did it better," said Ottilie. "Even now, when you see a game with strong narrative, it's always compared to Telltale, so it's no surprise that players and industry colleagues alike mourned the studio's closure. We believe there is still so much life to the brand and its franchises, and we look forward to building upon the company's storytelling legacy."
Waddle added: "It's hard to see your favorite games disappear or not get the sequels they deserve, so we thank everyone for their patience and support. We've got some exciting things to share soon. We'll try not to keep them waiting too long, but we think fans will be pleased."