Tekken 7 'hits 4 million sales'
Bandai Namco fighter still going strong two years after release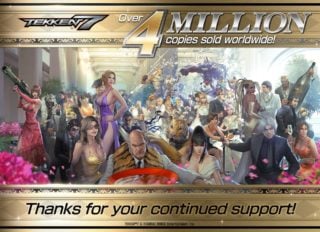 Tekken 7 has sold four million copies worldwide, according to publisher Bandai Namco.
The most recent entry in the popular fighting game series released on PlayStation 4, Xbox One and PC in June 2017.
Bandai Namco revealed the title's latest sales milestone on Twitter. The figure is up from three million sales announced in October 2018, when Tekken series lead Katsuhiro Harada said the franchise had topped 47 million copies sold.
The continuing post-release success of Tekken 7, which has received two season passes featuring additional characters, makes it "harder to justify" releasing new entries in the series such as Tekken X Street Fighter, Harada told VGC earlier this year.
"Traditionally, the life cycle of a fighting game is very short – maybe one or two years and then you make a sequel," the designer and producer said.
"But Tekken 7 is very successful as a service game with its DLC. That makes it much harder to justify releasing another game, while Tekken 7 is still doing so well."