Team 17 celebrates 25 years of Worms today
Discounts, new products and more mark the series' milestone anniversary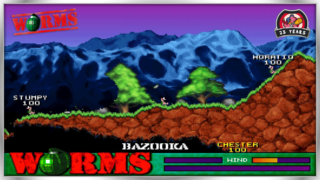 Team17 is celebrating the 25th anniversary of its iconic Worms franchise on Tuesday, with a number of promotions planned to mark the occasion.
Worms first launched on November 17, 1995 on the Commodore Amiga and has gone on to sell more than 75 million copies across many different instalments.
The strategy title was originally produced as 'Total Wormage' by creator Andy Davidson. As detailed by Retro Gamer, Davidson had worked on the game almost single-handedly for five years before its commercial release.
"It started life as a version of the old simple tank games that had been around since the 8-bit days", he explained. "It was called Artillery then and ran on the cutting-edge hardware that was a Casio graph-plotting calculator! It was just an experiment to see if I could get it to do something a bit more interesting than drawing a graph."
Team 17 is celebrating the anniversary by offering a wide selection of Worms games with up to 80% discounts on its new Team17 Store. An additional 10% discount code will be available via Team17's social media channels, it said.
Today also sees the announcement that three installments in the series, Worms, Worms Armageddon, and Worms Blast, will launch onto the Evercade console platform in 2021.
A special set of pin badges from Pinfinity that feature Worms through the ages – with added augmented reality functionality – will also soon be available for pre-order.
Team 17 CEO Debbie Bestwick MBE said in a prepared statement: "For a long time, Worms has been at the very heart of Team17. Even now, years into a successful period as a games publishing label, the battling critters remain an important part of our DNA.
"It's a series loved by gamers of all ages for decades, with an enduring appeal even when it's explored and played with new experiences. Watching the series develop over the years has been a wonderful journey to share with one of the most passionate and vocal communities in gaming. Here's to another 25 years of Worms!"
The latest Worms installment – the fast paced, real-time Worms Rumble – releases on December 1 for PlayStation 5, PlayStation 4 and PC.