Target and Walmart stores will stop selling Pokémon cards 'for safety reasons'
Stores restrict sales to online, to "ensure the safety of our guests and team members"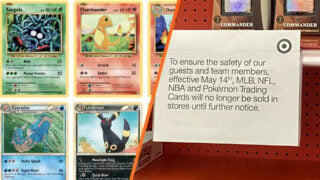 US retailers have indicated their intention to stop selling Pokémon trading cards, citing concerns over the safety of staff and customers.
Target stores across America will stop selling Pokémon cards from Friday, May 14, according to store signage pictured by customers this week.
Warner Bros Games director Alan Johnson shared a photo from his local Target store on Twitter, showing a sign announcing the decision. This was backed up by other Twitter users posting similar images.
The sign reads: "To ensure the safety of our guests and team members, effective May 14, MLB, NFL, NBA and Pokémon trading cards will no longer be sold in stores until further notice."
Toy collecting site Total Toy Recon posted a photo of a similar sign on Instagram, this time from Walmart to its own staff, stating: "The trading card categories have been removed from the sales floor and sales of these items have been suspended due to inappropriate behaviour and increased demand.
"Please do not stock these items until further direction from management has been given."
Although it hasn't yet been confirmed whether Walmart's decision is nationwide, the Target one is. The company gave an official statement to Bleeding Cool confirming the move.
"The safety of our guests and our team is our top priority," the statement reads. "Out of an abundance of caution, we've decided to temporarily suspend the sale of MLB, NFL, NBA and Pokémon trading cards within our stores, effective May 14. Guests can continue to shop these cards online at Target.com."
An internal Target document shared online sheds further light on the situation. Cards that have already shipped will still arrive in stores, but can't be put on shelves and must be stored "in a secure location with camera coverage until further notice". No more cards will be shipped to stores after this.
View this post on Instagram
The document also confirms that other card series including NHL, NASCAR, UFC and Magic will still be available in stores.
Target's decision follows a series of incidents relating to trading cards in North America. Last week, a group of four men approached a man in a Target parking lot in Wisconsin and confronted him about sports cards, causing the man to draw his gun (no shots were fired).
Earlier this year, McDonald's restaurants in the US had to place restrictions on Happy Meal sales after they were targeted by scalpers reselling their limited edition Pokémon 25th anniversary cards on auction sites for hundreds of dollars.
According to social media reports, some collectors were even buying the Happy Meals in mass numbers, in the hopes of obtaining new cards, and throwing out the food.
McDonald's UK will be selling the cards in Happy Meals from next week, but sales will be restricted in an attempt to avoid a repeat of the situation in America.
Related Products
Other Products
Some external links on this page are affiliate links, if you click on our affiliate links and make a purchase we might receive a commission.