Take-Two says it's 'exceedingly confident' about the quality of upcoming GTA games following Trilogy issues
The publisher believes recent problems will prove to be "an isolated case"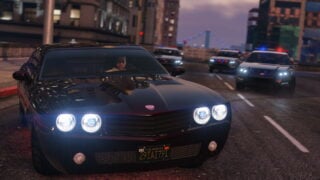 Take-Two has moved to reassure investors that its standards haven't slipped following Grand Theft Auto: The Trilogy – The Definitive Edition's highly criticised launch.
The much anticipated remaster collection released in November with a significant number of technical issues, as well as "unintended" documents within its game files such as unlicensed music and developer notes, resulting in the PC version being pulled temporarily.
Rockstar subsequently apologised to fans for the state of the game and promised a series of updates to improve the title.
Grand Theft Auto V - Coming to New Generation Consoles
Given the game's troubled launch, Take-Two was asked during its third quarter earnings call on Monday whether it had made any changes to its quality assurance processes to avoid repeat situations with future series entries, such as March's GTA V for PS5 and Xbox Series X/S, and the recently confirmed Grand Theft Auto 6.
"Yes, we are totally focused on quality here and we always want to deliver the best possible experience," CEO Strauss Zelnick responded.
"Very occasionally we fall short, and I think the trilogy was an example of that, and the title was launched with some issues. We've addressed many of them, there are more fixes to come.
"Going forward, we remain highly focused on quality, and we are exceedingly confident in all of our upcoming releases."
Zelnick later added: "We've had precious few quality lapses at this company so any time that we've fallen short from a quality point of view it has been an isolated case and we aim to keep It that way."
Despite its launch issues, Zelnick said on Monday that GTA: The Trilogy – The Definitive Edition had "significantly exceeded" the company's commercial expectations, with the game seemingly selling as many as 10 million copies.
Commenting on the current state of the remasters, Take-Two's Zelnick told GI.biz on Monday that further improvements were coming.
"We have some quality issues. We've attempted to address those. We have more coming, and we feel very good about how the title has performed commercially. I think we were all a bit disappointed about the quality initially. We're very grateful that most of those issues have been addressed. There's more work to be done."