Take-Two is 'discussing' more movie adaptations but being 'very selective'
CEO Strauss Zelnick says "there's a 70% chance that the movie that we license could fail"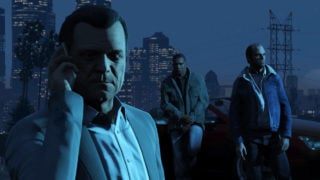 Take-Two has explained why a Grand Theft Auto film or TV show is seemingly unlikely to be announced anytime soon.
Earlier this week, Nintendo revealed that it has partnered with Sony Pictures Entertainment to create a live action The Legend of Zelda movie.
In light of this, during Take-Two's quarterly earnings call on Wednesday, the publisher was asked how willing it—and subsidiary Rockstar Games—are to find ways to extend the Grand Theft Auto and Red Dead Redemption franchises beyond video games.
Take-Two CEO Strauss Zelnick said the company is taking a "very, very selective, and very careful" approach to adapting its properties for film or TV.
Borderlands and BioShock movies are currently in the works, and while Zelnick said Take-Two is "discussing" further adaptations, the company is wary of the damage a misfire could to its brands.
"If we were willing to use the company's balance sheet to make a movie or a television show, then in the event of great success we would benefit from it," he said. "But we're not prepared to use the company's balance sheet that way because the risk/reward profile is unappealing to us.
"They're very difficult businesses," continued Zelnick, who previously spent four years as president and chief operating officer of 20th Century Fox, and also served as vice president of international television for Columbia Pictures. "I've been in them successfully, they're super challenging, they're not what we do. We much prefer the risk/reward profile of the business that we're in.
"So that means that the only way we can be in that business is through a license arrangement with a third party. And let's put it in context. Mattel said that their expected profits from licensing the Barbie IP for a movie would be about $125 million. Now, Barbie is a massive, massive hit, it's an extraordinary hit, so you don't want to posit a massive hit and look at the numbers that way.
"Even in a really good news scenario, the license fees would be a fraction thereof for many of our properties, not really enough to be meaningful here. And we have to weigh that too against the risk of failure. And the hit ratios in the motion picture business are vastly lower than they are in the interactive entertainment business.
"Our hit ratios for console properties here are in the 80s or 90 percent. The hit ratio for a well-run movie studio is around 30%, which is to say there's a 70% chance that the movie that we license could fail.
"And so, in success, the number in terms of the benefit to our bottom line is, it's not de minimis, it's not zero, but it's not really material to what we do around here. And in failure, we run the risk of compromising the underlying intellectual property, so it's a high bar."

A Borderlands feature film is scheduled to hit cinemas on August 9, 2024. Starring Cate Blanchett as Lilith, Kevin Hart as Roland and Jack Black as Claptrap, the movie is being written and directed by Eli Roth.
And in February 2022, it was announced that Take-Two had partnered with Netflix to produce a live action film adaptation of BioShock, which is set to be directed by Francis Lawrence (I Am Legend, The Hunger Games).
"We have licensed two properties, we've licensed Borderlands to Lionsgate, there's a picture coming, we've licensed BioShock, we're looking forward to that as well," Zelnick said on Wednesday. "And we have other titles in discussions, not anything ready to announce. But we're going to be very, very selective, and very careful."
Rockstar reportedly once turned down a GTA movie starring Eminem, which would have been directed by Top Gun director Tony Scott.
Related Products
Other Products
Some external links on this page are affiliate links, if you click on our affiliate links and make a purchase we might receive a commission.