System Shock remake boss praises the Resi 2 remake for revitalising horror games
"There's been a huge influx in people just wanting to play horror games"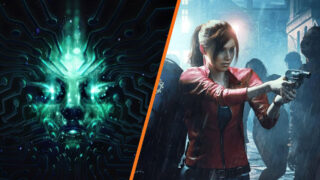 The CEO of System Shock remake developer Nightdive Studios has credited the Resident Evil 2 remake as one of the key components of a resurgence in horror games and remakes.
Speaking to VGC, Nightdive CEO Stephen Kick said he couldn't pinpoint the exact reason the sci-fi horror genre was enjoying a comeback, but mentioned Capcom's 2019 release as a main factor.
"I'm a really big fan of Dead Space, so I was psyched to see they're remaking the first one," Kick told us. "Callisto Protocol looks amazing, and of course we've got System Shock and like you say, they're coalescing around the same time.
"I'm very happy to see it. Sci-fi horror is probably my favourite genre, so I'm always looking out for stuff like that, but I couldn't tell you why right now, more than ever, we're seeing kind of an influx in that. Maybe people are just getting tired of fantasy.
"It's like an ebb and flow, right? You've got your World of Warcrafts and your Everquests in the 2000s, and then it kind of moved towards sci-fi, and then went back to fantasy, and now we're back to sci-fi again. You'd have to kind of look at the history.
"But the thing that really surprises me is that traditionally horror sci-fi games didn't sell that well, but I think with the advent of some of the more recent remasters, specifically the Resident Evil games, there's been a huge influx in people just wanting to play horror.
"Resident Evil 2 did such a wonderful job, they really set the bar of what a remake should be, and it sold incredibly well. And I think that had to have been a major factor in why we're seeing Dead Space being remade.
"I mean, Dead Space was a response to Resident Evil 4 when that first came out, so history is repeating itself."
Nightdive is currently developing its long-coming System Shock remake, which has been in development since 2016 and still has no release date. The game was, however, playable at Gamescom last month.
According to CEO and game director Kick, original creators Warren Spector and Paul Neurath have been providing regular feedback on the remake.
"They've been wonderful," he said. "We've been providing builds to them periodically and getting their feedback, and they've been giving us a lot. This was their baby, and it's been entrusted to us. We're just lucky to have them as a sounding board to let us know when maybe we've gone too far or maybe not far enough. We've definitely been applying that feedback."
Related Products
Other Products
Some external links on this page are affiliate links, if you click on our affiliate links and make a purchase we might receive a commission.