Switch's latest N64 update suggests Nintendo could be improving emulation
Fans notice a graphical improvement following criticism of Switch's N64 performance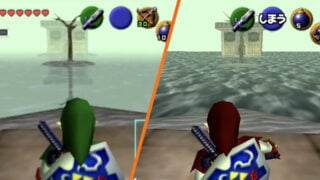 Nintendo's latest Switch Online update has provided some evidence that the company could be slowly improving its much-criticised N64 emulation.
Switch Online's Expansion Pack tier launched in October and was met with frustration from some players due to emulation issues and a lack of features including button mapping.
Some games have a noticeable audio delay, while others have graphical issues such as The Legend of Zelda: Ocarina of Time's inability to properly handle fog (see the above image).
In November, Nintendo of America's president even commented publicly on the issue and said the company was taking criticism of Switch Online's N64 emulation "very seriously".
Now, following Switch Online's latest update alongside the release of Banjo-Kazooie, users have found some evidence that Nintendo could be slowly working to improve the N64 experience on Switch.
Notably, it appears to have fixed an infamous graphical glitch in Zelda: Ocarina of Time, related to a transparency issue with a water texture in the game.
According to dataminer LuigiBlood, Switch Online's latest update has not made any changes to the game ROMs themselves, which suggests that an improvement to the console's N64 emulator has resulted in the improved Zelda texture transparency.
"Whatever fix they did for Zelda Ocarina of Time it was not added as a hack, seems to be an actual emulator fix," they wrote on Thursday.
Plenty of issues still remain, however: fog is still completely missing in Zelda, and graphical issues are still present in Yoshi's Story, Paper Mario and Dr. Mario, but fans will take assurance from the fact that Nintendo appears to be making some small improvements.
Another issue that has received complaints is the Switch Online app's apparent lack of support for the Controller Pak, the N64's memory card. This was placed in the slot at the back of controller so players could save game data in titles that didn't save directly to cartridge.
According to LuigiBlood, functionality remains in the emulator code for Controller Paks, but seemingly it's not being used from a user perspective.
Switch's N64 library is set to receive more than 20 additional titles in the future, if a recent datamine of the platform is to be believed.
That's according to analysis by Twitter user MondoMega, who has worked out using the launch games' database IDs that at least 38 games are planned in total for the service.
That represents 17 more N64 titles than were released for both Wii and Wii U's Virtual Console service.
Related Products
Other Products
Some external links on this page are affiliate links, if you click on our affiliate links and make a purchase we might receive a commission.