Switch's latest N64 update finally fixes Zelda's Water Temple room
Other improvements have been made to the emulator, but some issues remain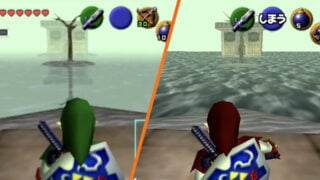 The Nintendo 64 service on Nintendo Switch Online has been updated, adding a number of fixes to its emulation.
The most notable of these, as tweeted by Switch dataminer OatmealDome, is that the Water Temple room in The Legend of Zelda: Ocarina of Time – used by many as the prime example of Switch Online's N64 inaccuracies – finally looks like it did in the original game.
When the Nintendo 64 service launched on Switch Online, players quickly pointed out that the room looked nothing like it did on console, with no water transparency and no fog.
An update in January fixed the water, but there was still no fog. This new update appears to have reinstated the fog, finally making the scene more accurate to its original design.
Other users have taken to Twitter to point out more fixes introduced with the new update.
A bug that was causing Paper Mario to crash and wipe save data if Mario died while partnering with Watt has been fixed, according to GamingBoy256.
However, some issues still need to be addressed. As Yakumono points out, Dr Mario 64 still has the wrong transition effects, and the Inviso boss in Yoshi's Story still shows an incorrect effect when it turns invisible.
Nintendo's Switch Online update last month provided some evidence that the company was slowly improving its much-criticised N64 emulation, and this latest update only reinforces this.
Plenty of issues still remain, however, including the Switch Online app's apparent lack of support for the Controller Pak, the N64's memory card.
Nintendo 64 and Sega Mega Drive / Genesis games can only be played if Switch Online members upgrade to the optional Expansion Pack.
Related Products
Other Products
Some external links on this page are affiliate links, if you click on our affiliate links and make a purchase we might receive a commission.