Switch users have hacked Controller Pak support into N64 games
The memory card feature is surprisingly not supported by unmodified Switch Online games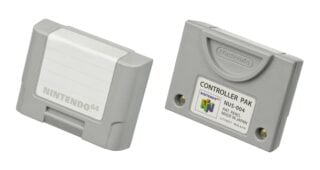 Nintendo Switch Online users have hacked missing Controller Pak support into the service's N64 games.
Switch Online's Expansion Pack tier launched in October and was met with frustration from some players due to various emulation issues and missing features, including the lack of Controller Pak support.
The Controller Pak was essentially the N64's memory card. This was placed in the slot at the back of controller so players could save game data in titles that didn't save directly to cartridge.
A Controller Pak was initially necessary for many earlier N64 games, especially third-party games.
Although most of the games on Switch Online's N64 app at launch were those that saved onto cartridge, WinBack instead saved to the Controller Pak, meaning players wishing to save their game currently have to create a system save state instead.
Mario Kart 64 also saved ghost data to a Controller Pak, meaning there's currently no official option to save ghosts on the Switch Online version.
According to datamined files of Switch Online's app, Controller Park functionality has long been present in Switch's N64 emulator, but for some reason, the support remains deactivated.
On Friday, recognised community hacker LuigiBlood shared instructions on how the missing data string they believed would turn on support, and another user with a hacked Switch proved that it worked.
Twitter user Dr.18 shared a video showing the Switch Online version of Mario Kart 64 allowing them to successfully save a time trial ghost.
However, they said the saved file disappeared as soon as they restarted the game, and the hack is seemingly not possible to do on a retail Switch.
Nintendo's latest Switch Online update has provided some evidence that the company could be slowly improving its much-criticised N64 emulation.
Notably, it appears to have fixed an infamous graphical glitch in Zelda: Ocarina of Time, related to a transparency issue with a water texture in the game.
In November, Nintendo of America's president even commented publicly on the issue and said the company was taking criticism of Switch Online's N64 emulation "very seriously".
Related Products
Other Products
Some external links on this page are affiliate links, if you click on our affiliate links and make a purchase we might receive a commission.