Switch Online's N64 emulation has been met with criticism
Button mapping, graphical issues and a lack of Controller Pak features are among issues being reported by players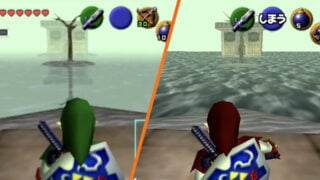 Nintendo has been receiving criticism from a number of players for the quality of its Nintendo 64 emulation on Nintendo Switch Online.
The new Expansion Pack for Switch Online is now active, bringing a selection of Nintendo 64 and Sega Mega Drive / Genesis games to the Switch for an extra fee.
However, players have started raising issues with some of the N64 app's features, or lack theoreof.
One of the most common complaints is the app's button mapping, which maps the C-Buttons to the right stick, the Z button to ZL and the B and A buttons to the Switch's own B and A buttons.
While the latter seems reasonable on paper, the Switch's B and A buttons are positioned at a different angle to those on the Nintendo 64, meaning for some players the ability to map them to Y and B would have been a more authentic recreation.
This is something that Nintendo could theoretically fix in the future with a patch enabling players to remap their own buttons (assuming they aren't interested in buying the separate Nintendo 64 controller Nintendo is selling).
Some of the other problems are technical ones. Some games have a noticeable audio delay (meaning the sound is heard a split-second after the action), while others have graphical issues such as The Legend of Zelda: Ocarina of Time's inability to properly handle fog in one area.
Another issue receiving complaints is the app's apparent lack of support for the Controller Pak, the N64's memory card. This was placed in the slot at the back of controller so players could save game data in titles that didn't save directly to cartridge.
Although most of the games on the N64 app at launch were those that saved onto cartridge, WinBack instead saved to the Controller Pak, meaning players wishing to save their game will have to create a save state instead. Mario Kart 64 also saved ghost data to a Controller Pak, meaning there's no option to save your ghosts on the Switch Online version.
While most of these complaints are inarguable, others are less cut and dry. Some players have been complaining about input lag, stating that it renders some games unplayable.
GameXplain appeared to shoot down these suggestions in a test video in which it played Ocarina of Time – reportedly the worst offender – on original hardware and the Switch.
In the video, it took Link an average of 11 frames to swing his sword after a button was pressed on the original N64, and 13 frames on the Switch. Given that this was based on a 60fps video capture, however, and that the game is locked to 20fps, the difference should be imperceptible.
Others have been complaining of extreme lag when playing online with other players.
Some videos on social media have been showing players trying to compete online against their friends at Mario Kart 64 but suffering extreme stutters and messages about poor connection.
These too have been shot down, however, by others suggesting their connections are to blame and they've been having stable experiences online.
For issues like lag and online stability, there are a number of variables in each player's set-up that could affect performance, and as such it's hard to determine whether the issue truly lies with Switch Online's N64 app.
Other issues, however – like the lack of custom button mapping, lack of Controller Pak support, audio delay and occasional graphical issues – are inarguably present and players will be hoping for Nintendo to address them with patches over time.
The Expansion Pack tier – which is required to play N64 and Sega games – costs $49.99 / €39.99 / £34.99 for a 12 month individual membership, while a Family Membership costs $79.99 / €69.99 / £59.99 for 12 months.
This represents at least a doubling in price from the standard tier, which costs $20 individually or $35 for a family membership.
In addition to a new selection of Nintendo 64 and Sega Genesis / Mega Drive games, the Expansion Pack tier will also include the paid DLC for Animal Crossing: New Horizons at no additional cost.
Switch Online's N64 launch games include Super Mario 64, Mario Kart 64, Star Fox 64, Yoshi's Story, The Legend of Zelda: Ocarina of Time, Mario Tennis, Dr Mario 64, Sin & Punishment and WinBack.
More N64 games will follow after launch, including Banjo-Kazooie, Paper Mario, Pokémon Snap, The Legend of Zelda: Majora's Mask, Kirby 64: The Crystal Shards, Mario Golf and F-Zero X.
The European version of the app allows players to access both the 60hz North American NTSC versions and 50hz European PAL versions of the games.
Related Products
Other Products
Some external links on this page are affiliate links, if you click on our affiliate links and make a purchase we might receive a commission.