Switch Online subscribers now have 'missions' and custom icon features
Nintendo says it will refresh the icon elements on offer every week
Nintendo has added a new Missions and Rewards section to its on-console Nintendo Switch Online app.
From today, subscribers to the paid-for NSO service will be able to visit the new Missions & Rewards section, where they'll find a list of missions for various games, which will reward Platinum Points for completion.
Missions include those based on system-based features such as backing up your cloud data, or some based on playing games such as Super Mario Bros. for NES.
Users can redeem their Platinum Points for the traditional selection of digital and physical items on the My Nintendo Store, but the company has also added new member-exclusive icon elements.
Nintendo Switch Online + Expansion Pack - Overview Trailer
Switch Online subscribers can purchase frames, characters or background elements to create their own custom Switch icons. Each month these will be based on a different theme, while icon elements will be refreshed every week, according to Nintendo.
Until April 3, the icon themes will be based on Animal Crossing: New Horizons and Super Mario Odyssey.
The standard Nintendo Switch Online subscription costs $3.99 / £3.49 per month, or $19.99 / £17.99 per year, and includes a selection of benefits as well as the ability to play Switch games online.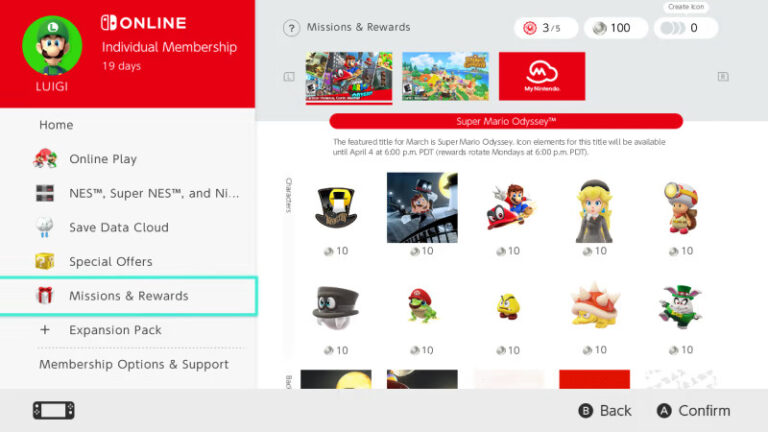 These include access to a library of NES and SNES games, as well as member-exclusive games like Tetris 99 and Pac-Man 99.
The Expansion Pack, which was released late last year, increases the price to $49.99 / £34.99 for an annual membership.
This adds Nintendo 64 and Sega Mega Drive / Genesis libraries, and also includes access to the $25 Happy Home Paradise DLC for Animal Crossing: New Horizons, and the upcoming Mario Kart 8 Deluxe DLC tracks.
Numerous sources have claimed that Game Boy games are coming to Switch Online soon and Nintendo has confirmed the service will continue to receive new features.