Switch Online adds four more Mega Drive / Genesis games
Ghouls 'n Ghosts, Landstalker and The Revenge of Shinobi are among the latest additions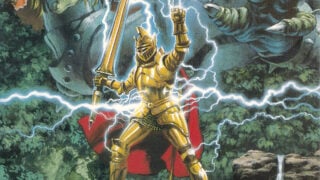 Four more titles have been added to the Sega Mega Drive / Genesis library on Nintendo Switch Online.
The newest additions, as seen in the trailer below, are Ghouls 'n Ghosts, Crusader of Centy, Landstalker and The Revenge of Shinobi, bringing the total number of Mega Drive / Genesis games in the service to 44.
Ghouls 'n Ghosts was originally released in arcades in 1988 and was the sequel to Capcom's Ghosts 'n Goblins.
The Mega Drive / Genesis port was handled by Sega (and programmed by Yuji Naka), and at the time was considered the most accurate home version of the game.
The player controls Arthur, a knight who has to rescue a princess from the evil 'Prince of Darkness' (who was Satan in the arcade version).
Crusader of Centy (which was known in Europe as Soleil) is an action RPG where you play as a boy called Corona, who inherits his late father's sword for his 14th birthday.
Corona has to not only protect the people of Soleil Town from the monsters surrounding it, but eventually travel through time to find out why they started attacking humans in the first place.
Landstalker is an isometric action-adventure game in which players control Nigel, a treasure hunter who teams up with a fairy called Friday to find the legendary treasure of King Nole.
Finally, The Revenge of Shinobi is the second game in the Shinobi series and sees ninja Joe Musashi hunting down the Neo Zeed criminal organisation in an attempt to get revenge on them for killing his master and kidnapping his fiancée.
The Switch Online Expansion Pack adds Mega Drive and N64 games to the existing NES and SNES libraries available as part of the standard membership tier.
Players can also buy a separate Mega Drive controller that connects to the Switch for a more authentic feel while playing.
Related Products
Other Products
Some external links on this page are affiliate links, if you click on our affiliate links and make a purchase we might receive a commission.