Switch OLED durability test rates its screen 2/10 for scratch protection
DIY YouTuber encourages owners to buy screen protectors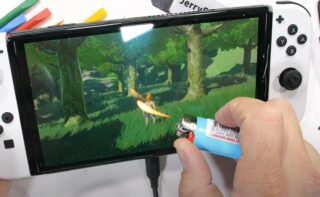 A durability test of the Nintendo Switch OLED's new display has suggested that it has little protection out of the box to scratches and damage.
YouTube channel JerryRigEverything sacrificed an OLED model Switch to find out exactly how durable its new display is and found that, despite Nintendo claiming the screen is made from glass, it appears to be as vulnerable as plastic.
In its scratch test, the channel found that Switch OLED only has screen protection of 2/10 and encouraged users to purchase a screen protector for their hardware.
"Unfortunately, what we're seeing here are scratches at level three and deeper grooves at level four, which means this new OLED screen has a surface layer of plastic," it said.
"It's good to know that the OLED screen is soft so that we can avoid putting it in situations where it can be damaged by coins, keys or other metal objects."
Nintendo has said that the OLED screen is made from glass and that a plastic film included on top of the display is intended to stop glass from scattering should it shatter.
The platform holder has also claimed that the Joy-Cons included with the Switch OLED are the "latest version", with improvements made to combat Joy-Con drift.
In the latest of its Ask the Developer features (formerly Iwata Asks), general manager Ko Shiota and deputy general manager Toru Yamashita of Nintendo's Technology Development Division were asked about the improvements made to the Joy-Con controller's analogue sticks.
Joy-Con drift has been a recurring issue for Switch owners since the console launched in 2017.
"Joy-Con controllers have lots of different features, so we've been continuing to make improvements that may not always be visible," Yamashita said. "Among others, the analogue stick parts have continuously been improved since launch, and we are still working on improvements.
"The analogue stick at first release cleared the Nintendo reliability test using the method of rotating the stick while continually applying a load to it, with the same criteria as the Wii U GamePad's analogue stick.
"As we have always been trying to improve it as well, we have investigated the Joy-Con controllers used by the customers and repeatedly improved the wear resistance and durability," he continued.
Related Products
Other Products
Some external links on this page are affiliate links, if you click on our affiliate links and make a purchase we might receive a commission.