Switch Lite to use NetFront web browser
Flagship Switch, Wii U and 3DS also use the browser component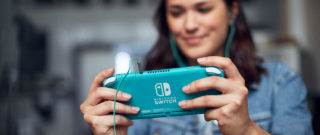 Japanese firm Access has announced that Nintendo Switch Lite will use its NetFront Browser NX.
Nintendo has used the WebKit-based browser component in its consoles since 2011 including 3DS, Wii U and the flagship Switch model.
Access says of the technology: "NetFront Browser NX is a WebKit-based browser component that features ultra-low levels of memory usage, enabled by ACCESS' unique technology that improves memory usage efficiency and ensures powerful rendering on a variety of devices and operating systems.
"The browser supports the latest Web technologies, including HTML5, CSS3, Gamepad API, WebP, WebSocket, and HTTP Cache. In addition, using proprietary expansion spatial navigation technology, it enables smooth movement controlled by the arrow keys, maximizes the usability of directional keypads on game controllers and more."
Announced in July and due to launch on September 20 for $200/£200, Switch Lite is a smaller, lighter system than the flagship Switch console. It can't be connected to a TV but can play all Switch games that support handheld mode
Nintendo will also release a limited edition Pokémon Sword and Pokémon Shield Switch Lite console on November 8, one week before the highly anticipated games are released.
Nintendo kicked off its Switch Lite marketing campaign in September with a pair of videos published on its UK and Japanese YouTube channels.
Switch Lite is now available to pre-order from the likes of Amazon, Best Buy, Game, Argos and Nintendo.