Switch Lite has 'same analog sticks' as original Joy-Cons, teardown reveals
Plus smaller battery, new Wi-Fi antennas and more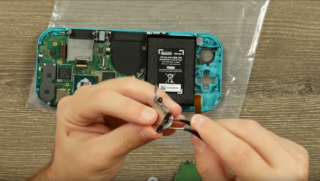 The Nintendo Switch Lite has the same analog stick design as the original Switch model, a hardware teardown has suggested.
According to YouTube channel Spawn Wave, although the sticks present in the Switch Lite feature different part numbers from the original Switch, they otherwise appear to be identical in design.
Spawn Wave host Jonathan Downey speculated that Nintendo could have used different materials to improve the sticks, but there isn't any evidence to suggest this.
The original Nintendo Switch has been criticised for an alleged flaw in its analog sticks, which has led to many users reporting "drifting" Joy-Con controllers, with inputs being registered even when the sticks aren't being touched.
The 'drifting' Joy-Con issue was brought to wider public attention with the filing of a class action lawsuit in July. Soon after, Nintendo of America approved free repairs for affected users.
"It appears to be the same design," said Downey. "Even inside it looks very, very similar with the pads and everything. Maybe Nintendo made some small differences with the materials they're using here, but from what I can tell it looks the same right now."
The teardown also confirms that the Switch Lite has a smaller 13.6 watt-hour (Wh) battery, which is 16 per cent smaller than the 16Wh battery found in original Switch model.
This means the Switch Lite's slightly increased battery life is being achieved mostly by using a more efficient processor. The handheld-only Switch also has a smaller screen.
The Switch Lite's screen is manufactured by InnoLux, the teardown reveals, which is the same company behind the screen inside the updated Nintendo Switch model, and not the upgraded IGZO (indium gallium zinc oxide) display from Sharp reported to be lined up for a future version of the console.
The Switch Lite features the same speakers as the original Switch, although they're now encased in plastic, potentially to better direct audio. Wi-Fi antennas have also been moved, which could result in better reception.
Finally, the teardown confirms that television play isn't possible at all with the Switch Lite, as the semiconductor required for passing video via USB is not physically present on the board.
In VGC's Nintendo Switch Lite review, we call the console "overall a more convenient, higher quality and cheaper console compared to its predecessor."
Related Products
Other Products
Some external links on this page are affiliate links, if you click on our affiliate links and make a purchase we might receive a commission.