Switch Lite allegations added to 'drifting' joystick lawsuit
Users claim new model can also suffer defect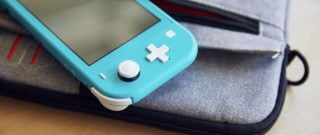 A lawsuit targeting Nintendo for 'drifting' Joy-Con controllers has added Switch Lite to its list of claims.
According to Polygon the lawsuit, which is targeting class action status, has been updated to include allegations on social media that the thumbsticks on the Switch Lite are also prone to 'drifting' after 20 hours of play.
'Drifting' Joy-Con controllers – which are said to cause game movement even when untouched – have been reported by a number of original Switch owners since launch but were brought to wider public attention with the filing of the lawsuit in July.
The suit claimed that users experiencing the drifting issue are "by no means isolated" and that "the internet is replete with examples of message boards and other websites where consumers have complained of the exact same Joy-Con defect."
Switch Lite released on September 20 and features the same analogue stick design as the flagship Switch model, a hardware teardown suggested.
The updated suit includes complaints including one alleged Switch Lite owner who writes: "I beat Link's Awakening over the weekend on my original Switch Lite system, I had only put like 20 something hours on it, and it started to show joy-con drift. Why is this happening earlier on than with the earlier Switch?"
Another alleged owner said: "I can't believe it, my Nintendo Switch Lite is already drifting. I was playing BOTW and the camera kept moving without touching the analogue stick. I tried to calibrate and update the controllers but it was still the same."
Unlike the flagship model's detachable Joy-Con controllers, Switch Lite features integrated controls that don't include HD rumble or an IR motion camera.
In July, following the filing of the class action, Nintendo of America started offering free repairs for users suffering from the drifting issue.
Switch Lite can't be connected to a TV but can play all Switch games that support handheld mode. In VGC's Nintendo Switch Lite review, we called the system "a secondary console worth owning".