Switch hits 107.6m as Nintendo claims its 'highest annual software sales ever'
Kirby clears 2.1m in 2 weeks, Pokémon Legends sold 12.64m and Metroid Dread managed 2.9m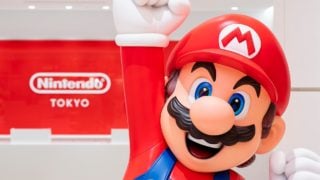 Nintendo Switch has made further ground on the company's best-ever selling games hardware, with 107.65 million units shipped as of March 31, 2022, the firm said on Tuesday.
Earlier this year Switch was already confirmed as the best-selling Nintendo home console of all-time, beating Wii's 101.63m. However, it still has a way to go before it matches Nintendo DS's 154.02 million units sold, and Game Boy (and Game Boy Color) at 118.69m.
Outside of Nintendo's own consoles, only PlayStation 4 (116.6m) and PlayStation 2 (155m) have outsold Nintendo Switch.
Overall, Nintendo sold 23.06 million Switch consoles during its 22 fiscal year, which represents a 20% decline from the previous year when the console peaked at 28.83 million units.
The company noted that Animal Crossing: New Horizons was a major driver of hardware sales during its previous fiscal year, and that FY22 was also affected by shortages of semiconductor components and other parts.
Around 25% of the year's Switch sales were the new OLED unit, Nintendo said, while the standard console made up 58.7%. Switch launched in March 2017, Switch Lite released in September 2019, and the new Nintendo Switch OLED model launched in October 2021.
The company said it expects to ship 21m consoles before the end of its current fiscal year in March 2023, which represents a 9.8% decline from the previous year and a 37% decline from FY 2020. However, it should be noted that Nintendo is known for its conservative projections.
As is traditional for its financial reports, Nintendo also provided updated software sales numbers on Tuesday.
A total of 39 titles sold over one million units during Nintendo's FY22. As a result, software sales grew 1.8% year-on-year to 235.07 million units, making it the highest annual software sales figure ever posted for a Nintendo platform to date, according to the company.
The company confirmed that recent release Kirby: The Forgotten Land sold 2.1m units in 2 weeks, while Pokémon Legends: Arceus sold 12.64m units and Metroid Dread managed 2.9m.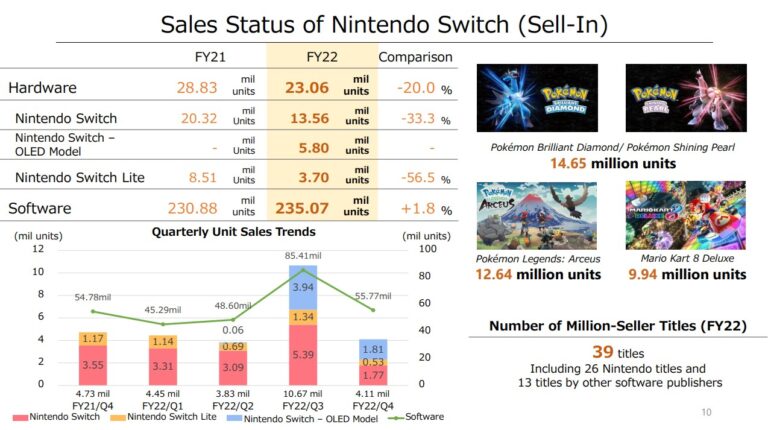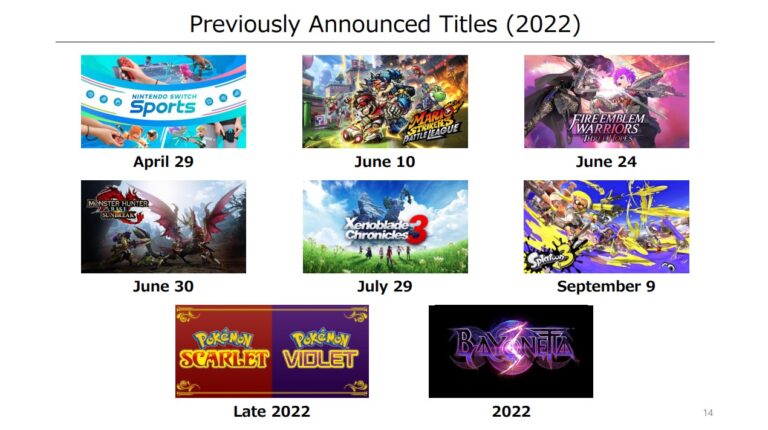 Nintendo reiterated that it expects to ship first-party titles such as Splatoon 3, Bayonetta 3 and Pokémon Scarlet and Violet during 2022. In addition, Mario Party Superstars sold 6.88 million units, and The Legend of Zelda: Skyward Sword HD sold 3.91 million units.
Titles released in previous fiscal years also continued to perform well, with Mario Kart 8 Deluxe selling 9.94 million units (for a total of 45.33m units) and Animal Crossing: New Horizons selling 6.01 million units (for a total of 38.64m units).
The sales figures show that Nintendo sold almost 35 million Pokémon games in the last financial year.
Looking forward to the remainder of its current fiscal year, Nintendo said it expected major software releases such as Pokémon Scarlet and Violet to drive hardware sales.
"Regarding Nintendo Switch, we will continue to convey the appeal of all three hardware models to maintain a high level of sales momentum and expand the install base.
"As for software, along with the release of Nintendo Switch Sports in April, we have planned the global releases of Xenoblade 3 (July) and Splatoon 3 (September). In addition, the latest entries in the Pokémon series, Pokémon Scarlet and Pokémon Violet, are slated for release in late 2022."
"Other software publishers also plan to release a wide variety of titles, and we will work to strengthen sales through the combination of existing popular titles and a continuous stream of new titles."
Related Products
Super Mario Odyssey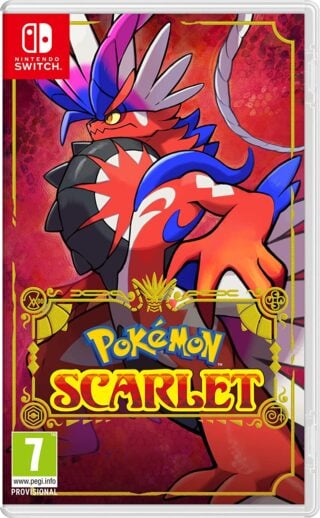 Pokémon Scarlet
Other Products
Some external links on this page are affiliate links, if you click on our affiliate links and make a purchase we might receive a commission.