Switch games take top 20 positions in Japan sales chart
Nintendo dominates software sales for first week of 2020, according to Famitsu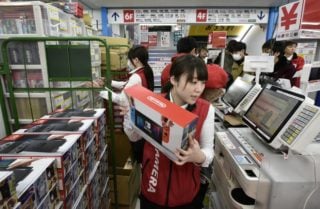 The latest Famitsu charts reveal that Pokémon Sword and Shield sales have surpassed three million in Japan and Switch games dominate overall.
Combined, the Pokémon titles are just the third Nintendo Switch game to reach the milestone in Japan, following Splatoon 2 and Super Smash Bros. Ultimate.
Nintendo Switch dominates the overall chart for the week ended January 5, with the platform taking up 26 of the top 30 positions and the entirety of the top 20.
Both Luigi's Mansion 3 and Ring Fit Adventure have now cleared 500,000 sales in the country, with the latter having suffered from stock issues in the recent past.
Switch has been a runaway success in Japan and in 2017, it helped the region's console market grow for the first time in more than a decade.
Nintendo Switch sales surpassed 10 million units in Japan as of November 3, 2019 according to Nintendo's internal sales data.
While PS4 launched in Japan in February 2014 and Switch didn't arrive until March 2017, sales of Nintendo's console overtook those of Sony's in May 2019.
---
Famitsu Japan game sales 30/12/19 – 5/01/20
[SW] Pokémon Sword & Shield – 196,925 (3,185,059)
[SW] Luigi's Mansion 3 – 52,434 (558,432)
[SW] Mario Kart 8 Deluxe – 52,195 (2,711,204)
[SW] Minecraft Switch – 46,963 (1,192,902)
[SW] Mario & Sonic at Tokyo 2020 – 44,605 (239,733)
[SW] Super Smash Bros. Ultimate – 43,274 (3,496,326)
[SW] Dr. Kawashima's Brain Training – 41,455 (76,151)
[SW] Super Mario Party – 37,903 (1,301,613)
[SW] Tsuri Spirits – 30,705 (367,700)
[SW] Ring Fit Adventure – 30,432 (526,071)
[SW] Splatoon 2 – 27,378 (827,882)
[SW] Super Mario Maker 2 – 27,378 (827,882)
[SW] Disney Tsum Tsum – 16,984 (142,482)
[SW] Super Mario Bros. U Deluxe – 14,441 (762,030)
[SW] Zelda: Breath of the Wild – 11,586 (1,492,935)
[SW] Taiko no Tatsujin Drum 'n' Fun – 11,208 (431,790)
[SW] Super Mario Odyssey – 10,045 (2,057,591)
[SW] Yo-Kai Watch 4++ – 9,486 (56,382)
[SW] Dragon Quest XI S – 7,973 (471,672)
[SW] Kirby Star Allies – 7,696 (791,570)
[SW] Jikkyou Powerful Pro Baseball – 7,444 (217,703)
[PS4] eFootball PES 2020 – 6,394 (126,109)
[SW] FIFA 20 Legacy Edition – 6,186 (50,142)
[PS4] Call of Duty: Modern Warfare – 6,046 (215,127)
[SW] Story of Seasons – 5,950 (124,032)
[PS4] Detroit: Becpme Human – 5,948 (27,163)
[SW] Tokyo 2020 Olympics – 5,879 (87,370)
[PS4] Sakura Wars – 5,483 (166,771)
[SW] Pokémon Let's Go! Pikachu & Eevee – 5,425 (1,690,731)
[SW] Super Bomberman R – 5,423 (67,645)