Superhot 'tops 2 million sales'
Kickstarter funded shooter franchise launched in February 2016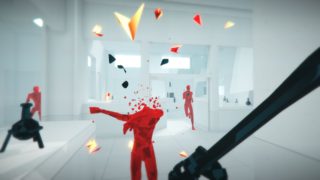 Indie first-person shooter franchise Superhot has reportedly sold more than two million copies.
That's according to Superhot Team business developer Tomasz Kaczmarczyk, who told PCGamesInsider.biz that the standard edition of the title has sold 1.2 million to 1.5 million copies, in addition to 800,000 sales of the virtual reality edition.
Superhot debuted on PC in February 2016, before Superhot VR arrived in December of that year. An Xbox One version released in May 2016, ahead of the game's PS4 release in July 2017.
Mixing strategy and chaotic gunplay, the game's central mechanic sees time move only when the player does, giving them a chance to defeat otherwise insurmountable odds.
"We're pretty safely over two million copies sold in the Superhot franchise, not counting giveaways like Xbox Games With Gold and bundles," Kaczmarczyk said of the Kickstarter funded project.
"It's been going very well for us. Luckily, Superhot is somewhat timeless. The game mechanic or art style don't really get old. We don't see that much of a decline in sales as usually expect for a video game."
Kaczmarczyk added: "We've actually grown revenue year-on-year between 2017 and 2018 even though we haven't released anything new – which is great. That's a mix of our own efforts and making sure that we are running discounts and sales properly and making it more approachable for new people."
Microsoft confirmed last week that Superhot will be added to its Xbox Game Pass subscription service on June 6.