Super Mario Bros. Wonder is available for £37.50 with this Currys UK deal
It's £5 cheaper than elsewhere, and £12.50 less than Nintendo's charging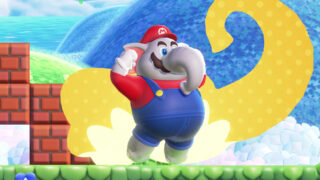 Super Mario Bros. Wonder is currently available to pre-order for £37.50 at UK retailer Currys.
When VGC checked, the offer made Currys the cheapest place to purchase the upcoming Switch exclusive, which is Nintendo's big release for the Christmas shopping season.
Applying the code WONDER25 at the checkout brings the price of the game down by 25%, from £49.99 to £37.49.
That's over £5 cheaper than we could find the game elsewhere, and £12.50 less expensive than Nintendo is selling it for.
Set for release this Friday, October 20, Super Mario Bros. Wonder is the first original 2D Mario side-scrolling game in over a decade. Its headline new feature is the Wonder Flower, which transforms each stage in a different way.
"Super Mario Bros. Wonder is lovingly crafted, consistently surprising, and a delight to play alone or with friends," according to VGC's 5-star review.
"If this is what the future of Mario side-scrolling looks like, then we can't wait to see what's next. Especially if future games are assembled with this much heart."
The game currently has a score of 93 on Metacritic. That makes it the joint third highest rated Switch game released this year with The Case of the Golden Idol, trailing only Metroid Prime Remastered (94) and The Legend of Zelda: Tears of the Kingdom (96), according to the review aggregation site.