Super Mario Bros. Wonder demo appears at Switch kiosks in the US
It's unclear if the demo will also be released on the Nintendo eShop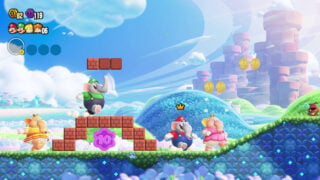 Nintendo Switch demo kiosks in the US now feature a demo for Super Mario Bros. Wonder.
As spotted by @Nintendeal, some US stores have received an update to their demo kiosk that adds a playable demo for the upcoming platformer.
The demo is reportedly available at selected Target, Walmart and GameStop stores.
It's unclear if the demo will later be released on the Nintendo eshop. Retail-exclusive demos for games are rare, but not unheard of.
Set for release on October 20, Wonder is the first 2D Mario game since New Super Mario Bros. U in 2012.
It appears to introduce the most significant changes to the classic formula since the 1990s, with a new art style and a 'Wonder' mechanic which transforms stages in surprising ways.
Super Mario Bros. Wonder producer Takashi Tezuka and director Shiro Mouri have credited the game's younger development team for many of its innovations.
In a recent hands-on Super Mario Bros. Wonder preview, VGC wrote: "The reveal trailer for Super Mario Bros Wonder in June hinted at a 2D game with some of the madness of its 3D cousins.
"After playing four levels (and a bonus one) at Nintendo Live in Seattle, I can say that this is shaping up to be the wildest 2D Mario games to date, but one that still holds true to that classic Mario Bros formula."