Super Mario Bros. 35 is already suffering from cheaters
Infinite coin exploit abused just days after last-man-standing platformer's release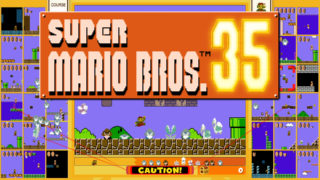 Super Mario Bros. 35 is reportedly suffering from cheaters, just days after its release on the Nintendo Switch eShop.
As reported by Polygon, some players have discovered an exploit for obtaining unlimited coins in game. Although the objective of Mario Bros. 35 is to be the last player standing, coins act as a score in addition to the main objective.
One YouTube video reportedly showing how to pull off the exploit has already been removed following a complaint from Nintendo of America. However, as of Monday night, over 50 players had scores of 99,999 or similar.
As its name suggests, Super Mario Bros. 35 sees 35 players compete to be the last Mario standing. Enemies defeated will be sent to other players' courses and players can activate special items to try and outpace their opponents.
Super Mario Bros. 35 is a digital-only game exclusive to Nintendo Switch Online members. The game will be playable until March 31, 2021, Nintendo said.
Last month Nintendo published a surprise Super Mario Bros. 35th Anniversary Direct and announced it would celebrate September's Birthday with the release of several games including Super Mario 3D All-Stars.