Super Mario 3D World + Bowser's Fury review published in Famitsu
Japanese mag praises new mode and online play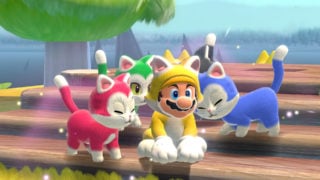 The first Super Mario 3D World + Bowser's Fury Nintendo Switch review has been published in Japanese magazine Famitsu.
As reported by Ryokutya2089, Famitsu gave the Switch port a score of 36/40, with its four reviewers awarding the game scores of nine, nine, eight and ten.
This score is actually lower than it awarded the Wii U original (38/40). The publication does not appear to typically cover ports and re-releases, though it did give Switch's New Super Mario Bros. U Deluxe a lower score than the Wii U original (32 vs. 36).
Famitsu's 3D World Switch review reportedly calls the new Bowser's Fury mode "a lot of fun" and says it was impressed by the challenge and replayability offered by the standalone addition. The review also highlights online play and says it works well in original 3D World game.
Famitsu previously awarded Super Mario Odyssey 39/40 (10/10/10/9), Super Mario 3D World 38/40 (10/10/9/9), Super Mario Galaxy – 38/40 (10/10/9/9) and Super Mario Galaxy 2 – 37/40 (10/9/9/9).
Set for release on February 12, 2021, Super Mario 3D World + Bowser's Fury features both online and offline co-op, as well as a new standalone adventure which lives alongside the original Wii U game.
Bowser's Fury is described by Nintendo as a "short but action-packed" free-roaming adventure which has Mario visiting Lake Lapcat, a world where everything is cat-themed and Bowser has gone berserk.
Players must team up with Bowser Jr – who can be controlled via a second player in co-op – and travel to various islands to collect Cat Shines, which reignite lighthouses and clear darkened terrain.
The Wii U port arrives as part of Super Mario's 35th anniversary celebrations. In addition to 3D All-Stars – a collection of classic 3D Mario games – Nintendo has released several additional Mario games for Switch.
Related Products
Some external links on this page are affiliate links, if you click on our affiliate links and make a purchase we might receive a commission.