Suikoden I & II remasters have been delayed until 2024
Konami had originally planned to release both games this year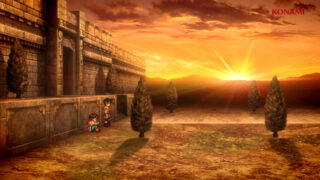 The upcoming remasters of Suikoden and Suikoden II have been delayed, Konami has announced.
When it first revealed in September 2022 that it was working on Suikoden I & II HD Remaster: Gate Rune and Dunan Unification Wars, Konami said the remasters would be coming to PS4, Xbox One, Switch and PC in 2023.
However, a new tweet from the official Suikoden Twitter account says the games will no longer be ready by the end of this year.
"We would like to thank Suikoden fans everywhere for your ongoing passion and support for the Suikoden series," the message reads.
"Regarding the planned release of Suikoden I & II HD Remaster: Gate Rune and Dunan Unification Wars, we have reached the conclusion that despite the very best efforts of our dedicated development staff to release the Remasters in 2023, additional time is needed to ensure the quality performance and gameplay experience our users deserve.
"The entire Suikoden team is renewing our efforts to bring Suikoden I & II HD Remaster to release as soon as is possible.
"We will share further release information as soon as it becomes available, on our official social media accounts and official homepage. We appreciate your understanding and sincerely hope you will continue to lend Suikoden your support."
Announced during Tokyo Game Show 2022, the remasters of each game – both of which have been cult classics since their release in the 90s – will feature graphical, mechanical and quality of life improvements, including a dialogue log, auto-battle and double-speed battles.
The Suikoden series began in 1995 in Japan on the PlayStation. It would later release in North America in 1996 and then in Europe in 1997. A Sega Saturn release followed in 1998.
Suikoden 2 followed in Japan in 1998, North America in 1999 and PAL regions in 2000. The third game in the series was released in both Japan and North America in 2002, but wouldn't see a PAL release until 2015 when it was made available on the PlayStation Network.
Related Products
Other Products
Some external links on this page are affiliate links, if you click on our affiliate links and make a purchase we might receive a commission.