Suda51 would cast Ryan Gosling in a No More Heroes movie
And he wants James Gunn or Takashi Miike to direct it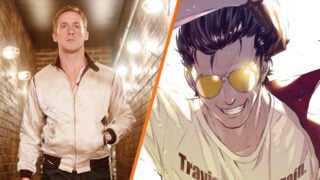 Goichi Suda, aka Suda51, has said he would love to cast Ryan Gosling as Travis Touchdown in a No More Heroes movie.
In an interview with Shacknews, the Grasshopper Manufacture founder and CEO was asked who he'd like to see involved in a theoretical movie based on the studio's most successful series, No More Heroes.
"[For Travis Touchdown,] I'd probably go with Ryan Gosling," Suda answered. "And as director, I'd probably go with James Gunn.
"Conversely, if we were going to go with a Japanese director, then I'd want to go with Takashi Miike."
Suda has worked with both Gunn and Miike in the past. Before he went on to write and direct the Guardians of the Galaxy movies, Gunn co-wrote Lollipop Chainsaw, which Suda directed.
Controversial Japanese director Miike, who helmed such cult favourites as Audition and Ichi the Killer, was portrayed in No More Heroes 2 as a character simply called Miike, who he voiced.
The Miike character returns in No More Heroes 3 (voiced by someone else), and Travis Touchdown asks him to make a No More Heroes movie.
No More Heroes 3 was released exclusively on the Switch in August 2021, but will be coming to PlayStation, Xbox and PC this Fall.
Following the release of the game on Switch, Suda claimed that it would be the last entry in the No More Heroes series.
"Travis Touchdown will finally be coming to the end of his final battle, and will be embarking on a much-deserved, long journey," he said. "Join him as he goes absolutely buck wild in the Garden – no, Cosmos of Madness!
"Now, carrying with it a thousand thoughts, I run along the Thunder Road once more. As one journey ends, the crimson bike falls into a deep sleep.
"Goodbye, Travis. Goodbye, No More Heroes. Goodbye, fleeting moments and days. Farewell, to all Travis Touchdowns everywhere."
In VGC's No More Heroes 3 review, we called the game "a faithful follow-up for better or worse", saying: "No More Heroes 3 is exactly what fans of the series have been waiting for – an authentic sequel that continues the story of Travis Touchdown.
"If you loved the previous games, you'll love this. However, it doesn't offer anything new to improve on the series' flaws, meaning anyone who isn't a devotee may want to try the original first to see if its quirky, sharp-tongued style is for them."
Related Products
Other Products
Some external links on this page are affiliate links, if you click on our affiliate links and make a purchase we might receive a commission.