Study finds insufficient evidence of gaming as a clinical disorder
Research suggests obsessive gamers likely to be suffering from wider issues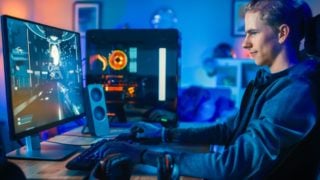 A new academic study has found "no compelling evidence" to warrant classifying gaming as a clinical disorder in its own right.
According to research conducted by Oxford University, in partnership with Cardiff University, there's nothing clinically 'wrong' with obsessive gamers.
Rather than being negatively impacted by gaming itself, it's suggested that young people who engage in dysfunctional gaming may be doing so in a bid to escape "underlying frustrations and wider psychosocial functioning issues".
The study, titled 'Investigating the Motivational and Psychosocial Dynamics of Dysregulated Gaming', explores the extent to which obsessive gaming among adolescents reliably links to whether basic psychological needs are being met.
It involved collecting and analysing data from 1,000 adolescents and an equal number of caregivers in England, Scotland and Wales.
The adolescents completed questionnaires about their gaming behaviour, while caregivers rated their child's emotional and social health.
The study found most adolescents played at least one online game daily. Less than half of daily players reported symptoms of obsessive gaming, and daily payers spent an average of three hours gaming each day.
Professor Andrew Przybylski, director of research at the Oxford Internet Institute and co-author of the study, said: "The World Health Organisation and the American Psychiatric Association have called on researchers to investigate the clinical relevance of dysregulated video-gaming among adolescents, as previous studies have failed to examine the wider context of what is going on in these young peoples' lives.
"This is something we seek to address with our new study. For the first time we apply motivational theory and open science principles to investigate if psychological need satisfactions and frustrations in adolescents' daily lives are linked to dysregulated – or obsessive – gaming engagement.
"Our findings provided no evidence suggesting an unhealthy relationship with gaming accounts for substantial emotional, peer and behavioural problems.
"Instead, variations in gaming experience are much more likely to be linked to whether adolescents' basic psychological needs for competence, autonomy, and social belonging are being met and if they are already experiencing wider functioning issues.
"In light of our findings we do not believe sufficient evidence exists to warrant thinking about gaming as a clinical disorder in its own right."
The World Health Organisation (WHO) voted to officially recognise gaming disorder as an international disease in May.
WHO defines gaming disorder as a pattern of gaming behaviour characterised by "impaired control over gaming, increasing priority given to gaming over other activities to the extent that gaming takes precedence over other interests and daily activities, and continuation or escalation of gaming despite the occurrence of negative consequences".
The decision to classify gaming disorder as a mental health condition for the first time was heavily criticised by leading video game firms, who argued the move was not based on sufficiently robust evidence and created a risk of misdiagnosis for patients.
Neuroscientist Nastasia Griffioen recently warned of the dangers of stigmatising people as being addicted to video games. "If we do stigmatise people basically as being addicted to video games, we might take away those video games when they might be a coping mechanism for a deeper, underlying problem like depression or anxiety", she said.
The UK's National Health Service launched the first specialist clinic for game addiction in England in early October.