Street Fighter 6 characters have special animations for perfect rounds
Luke's celebratory dance was shown off during Japan Expo 22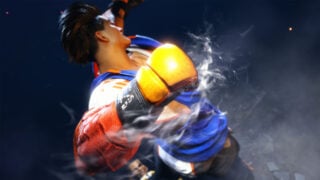 Street Fighter 6 characters have special animations for when players achieve a perfect round.
As posted to Twitter by Matthew Edwards, the brand manager of Capcom Europe, beating an opponent without taking any damage will trigger a celebratory move.
The first of these to be shown off is Luke's, as captured by Edwards during the Japan Expo 2022. You can see a video of the animation in action below.
It's unclear if other win conditions, such as winning with low health, will also trigger special animations, or if animations can be changed for characters, in the same way that costumes and outfit colours have been in previous games.
Street Fighter 6 is due for release in 2023, but Capcom has recently shown off a lot of the game, including the new World Tour mode. The open-world-like mode, which will seemingly serve as the game's campaign, will allow players to visit several locations across the Street Fighter universe. 
Speaking to IGN Japan (translated by VGC), Street Fighter 6 producer Shuhei Matsumoto has suggested that Metro City, the open-world area shown in game footage, will be only one of several different areas in the game.
When asked if the graffiti-laden streets of Metro City were supposed to be a depiction of America, Matsumo answered: "I don't think that street culture has anything to do with countries, so I don't really think about it.
"The first stage of the world tour is in Metro City, so maybe that's where you got that impression." IGN Japan followed up on this, asking what Matsumoto meant by "first stage".
"Well, it's the WORLD Tour," he answered. "I can't say for sure yet, but I hope you will look forward to hearing more about it."
Major Street Fighter 6 leaks appeared online hours after the fighter was fully revealed during a PlayStation State of Play broadcast earlier this year.
Detailed artwork for 22 Street Fighter 6 characters was posted online and appeared to confirm that all eight original 'World Warriors' from Street Fighter II will star in the game, as well as other returning and new characters.
Most of the new characters seen in the images fit with an apparent leak posted a few months ago, in which Reddit user DasVergeben described their appearances.
Related Products
Some external links on this page are affiliate links, if you click on our affiliate links and make a purchase we might receive a commission.