Stormzy is in Watch Dogs Legion: 'My manager hasn't been this excited since Glasto'
British rapper to appear in special game mission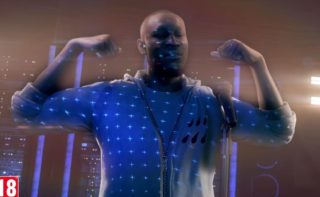 British rapper Stormzy is set to appear as himself in Ubisoft's Watch Dogs: Legion.
During its Forward digital event on Thursday, the publisher revealed that the Glastonbury-headlining artist would appear as part of a special mission in Legion performing his Rainfall music video.
"The excitement [my manager] phoned me with I hadn't heard since I got booked for Glasto," Stormzy – real name Michael Ebenezer Kwadjo Omari Owuo Jr – said in a video.
"You guys are about to have your minds blown. What they've done in terms of recreating London is the most insane, epic, incredible thing I've ever seen. So I'm honoured to be a part of it."
Legion's creative director Clint Hocking commented: "We are thrilled for Stormzy to be a part of Watch Dogs: Legion. His music and what he speaks to as an artist is extremely relevant for our London setting, and for the larger themes of our game.
"It's been almost a year since we had Stormzy in the studio to film his performance. He lit up the room, and captivated us all. He's a great collaborator, and it was a career highlight for us to get to work with him."
Ubisoft also announced on Thursday that Aiden Pearce, the protagonist from the original Watch Dogs game, would return as a playable character for those who purchase its season pass.
Previously delayed from its original 2019 release window, Watch Dogs will release first on current-gen consoles and PC in October, but take "full advantage" of PlayStation 5 and Xbox Series X when they launch later this year, according to Ubisoft.
Watch Dogs Legion takes place in a near future UK that has become an oppressive surveillance state, where ordinary citizens are preyed upon by a corrupt private military corporation and a powerful crime syndicate.
Players must recruit Londoners to form a resistance movement. The game will support four-player co-op, with progression shared between single-player and online modes.
Watch Dogs Legion will support Xbox Smart Delivery, which lets players buy a game once and play it across Xbox One and Xbox Series X.