Neuroscientist warns against 'stigmatising' people as being addicted to games
Games might be "a coping mechanism for a deeper, underlying problem"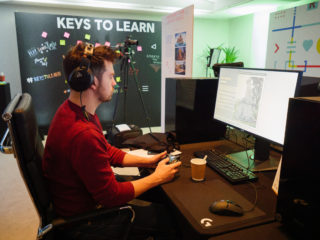 A neuroscientist has warned of the dangers of 'stigmatising' people as being addicted to video games.
Nastasia Griffioen is a doctoral researcher at GEMH Lab, a research and development lab aiming to establish the scientific foundations for effective mental health games.
She told attendees at an event in London there's no evidence to show games lead to depression or anxiety, "but it may be in fact that people go to video games to cope with their problems".

The World Health Organisation (WHO) voted to officially recognise gaming disorder as an international disease in May, a move that was heavily criticised by leading video game firms.
"I think we can all agree that there are certain instances in which anything can become problematic," Griffioen said at Ubisoft's Keys to Learn event on Monday. "It's like if you say, 'eating food is bad for you'. Sometimes food might be bad for you, but other times it isn't.
"There may be instances of problematic gaming out there in society, but really we're talking about one or two percent of all people who play games."
She added: "Absolutely there's the possibility that those people are there, but overall there is very little evidence to show that video games are addictive, certainly compared to any other hobby.
"Of course video games are something that people like to play and if there is something you like to do, like reading books… nobody is going to say you're addicted to reading books."
Griffioen argued that there is a larger issue with how many people view the consumption of digital media today and the perceived health repercussions.
"It's a very specific attitude that we have towards digital media, whether it's games or social media," she said.

"We need to be really careful about how we do that, because if we do stigmatise people basically as being addicted to video games, we might take away those video games when they might be a coping mechanism for a deeper, underlying problem like depression or anxiety.
"And we really have no evidence to show that video games lead to depression or anxiety, but it may be in fact that people go to video games to cope with their problems."
At the same event, Ubisoft's VP of global communications, Stephanie Magnier, claimed the Assassin's Creed publisher puts significant thought into the responsibility it has to those who play its games.
"A question we are asking ourselves all the time is, 'is the game design we're creating good for people, or is it creating bad consequences?'
"We strongly believe that if you produce great entertainment, a great game with great content, then in the end if it's meaningful to people then they will come back to it," she said.
"So when we're talking about things that engage you for hours and hours, the main thing that's going to make me want to go back tomorrow… it's our editorial touch. Maybe it's not always perfect and it doesn't succeed all of the time for all of our games, but this is our approach."
Related Products
Other Products
Some external links on this page are affiliate links, if you click on our affiliate links and make a purchase we might receive a commission.