Steam users perplexed as Counter-Strike: GO and other games temporarily removed
85 store items disappeared without explanation, including numerous games, movies and DLC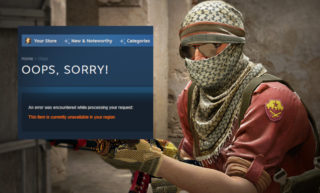 A number of games, movies and downloadable items were temporarily removed from the Steam store overnight, including Valve's own title Counter-Strike: Global Offensive.
As spotted by Twitter user Gabe Follower and recorded on Steam Database, 85 separate store listings were removed from the Steam store at around 6am GMT (1am ET).
These included a number of games (including Counter-Strike: Global Offensive, Section 8: Prejudice and Paws & Claws: Pet Vet), some DLC (including content for Fallout: New Vegas, Batman Arkham City, Street Fighter X Tekken and Wolfenstein II), and around 30 movies (including Ghost in the Shell: Stand Alone Complex, Paddington and Halloween 2).
The removals weren't limited to simply the game titles: as Steam Database notes, every element of Counter-Strike: Global Offensive was removed, including the store description, the listed categories and all the screenshots and trailers.
The items were all added back to the store two hours later, and at the time of writing there has been no explanation for the incident.
Due to the seemingly random nature of the items that were removed, it appears the disappearances were accidental.
However, Steam Database founder Pavel Djundik speculated that content removals could be related to geographical locks.
"From a cursory look, a lot of these apps had various region locks," he wrote. "Perhaps geoip or something related started failing?"
Counter-Strike: Global Offensive remains one of the most popular games on Steam, with around 11 million players per month.
In December 2018, Valve made the shooter free-to-play, choosing instead to make money from the game's cosmetic items.