Steam Deck gets its first ever discount as part of the Steam Spring Sale
The 10% discount marks the first anniversary of the system's launch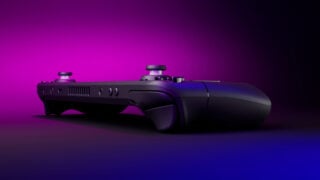 The Steam Deck has received its first discount as part of Steam's Spring Sale.
Until March 23, the Steam Deck will be discounted by 10% in all regions. All models of the Steam Deck are included in this discount.
The discount marks the first anniversary of the handheld going on sale to the public.
The Steam Spring Sale is currently underway, offering discounts on a wide variety of new and older games.
Valve estimates that it takes around 1-2 weeks from ordering the item for players to receive their Steam Deck, a far cry from the months-long waiting lists that players faced to get the popular handheld during its first months on the market. 
The Steam Deck, which has been hugely popular since its release, earning almost 40 weeks at the top of Steam's best sellers list, has returned to the top of the list following this discount.
While not compatible with Steam's entire library, since its release, more and more developers have revisited their old games in order to make the "Steam Deck Verified," a moniker given to games that have been approved by Valve to work best with the system.

Valve has spoken openly about potential future iterations of the machine, which the team says will likely focus on improved battery life, rather than hardware such as an OLED screen. 
In an interview with Famitsu last September, Steam Deck developer Pierre-Lou Griffais stated that battery life was the main thing Valve wanted to improve in the next iteration of the Steam Deck.
"We have already made improvements [to battery life] between the time of launch and now," he explained at the time. "For example, we've made it possible to play refresh rates at 40 Hz, and we're working hard to give users more control over how long their battery lasts.
Earlier this week in an interview with PC Gamer, Griffais explained that while Valve is aware that people feel the handheld's IPS LCD screen could be improved, doing so isn't necessarily a simple task.
He added: "I think people are looking at things like an incremental version and assume that it's an easy drop-in. But in reality, the screen's at the core of the device. Everything is anchored to it. Basically, everything is architected around everything when you're talking about a device that small.
"I think it would be a bigger amount of work than people are assuming it would be," he stated, adding: "I don't think we're discounting anything. But the idea that you could just swap in a new screen and be done – it would need more than that to be doable."