Starfield Direct shows off almost an hour of Starfield gameplay
The game will feature "over 1000 planets" according to Bethesda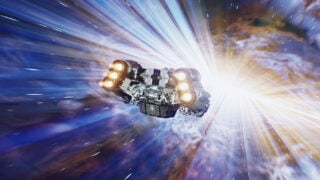 The Starfield Direct presentation has just finished, delivering a deep dive of the its various gameplay mechanics.
The hour-long show, which followed the Xbox Games Showcase, featured the heads of multiple departments as they showcased the game's various features including character creation, galaxy exploration and more.
Starfield will feature "over 1000 worlds",  according to Bethesda's Todd Howard. During the presentation, Howard showed a planet that was orbited by a large moon. Howard noted that "you can visit that moon", saying this will be the case for many of the game's planets.
The game will also feature an "all-new animation system" according to Bethesda. It can also be played in third or first person, an option that has featured in most Bethesda games.
Character creation was also shown off, as well as the new traits system. Traits come with advantages and disadvantages for players. One example shown was that players could choose to meet their biggest fan, who will complement them.
Starfield features five different skill trees, and each rank on those trees will feature four ranks. Some of these skills include the ability to use a jetpack.
As in most Bethesda titles, players will be able to tackle missions in various ways. For example, players could use speech checks to get through an area, or could alternatively choose to sneak through or go with a loud run-and-gun approach.
Each spaceport in the game will also feature ship technicians that will have specific upgrades and customisation options for the player's ship that are only available in that area.
Starfield Direct also highlighted some of the followers that players will be able to encounter in the game. These followers will occupy the player's ship, and can also be assigned to specific planets. Followers come with unique questlines and have romance options.
Players will be able to attack enemy ships, as well as board them and take them for themselves. Players can also encounter random NPCs in space. As an example, the presentation showed a player encountering a ship called Grandma, which offers goods.
Outposts can be set up by players in most areas, these outposts can also host companions. Weaponry is also fully customisable. Different planets in Starfield will also have different gravity levels. For example, on a low-gravity planet, firing a ballistic weapon will send the player backwards.
Bethesda also officially revealed a limited edition Starfield watch, almost a year and a half after images originally surfaced online.
The Starfield Chronomark Watch will be included as part of the game's Constellation Edition.
Related Products
Other Products
Some external links on this page are affiliate links, if you click on our affiliate links and make a purchase we might receive a commission.