Starfield designers share more story and gameplay details
Smuggling, house-buying and crew members are discussed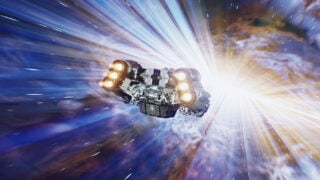 Two of Starfield's lead designers have shared more information on the game's story and gameplay.
Lead designer Emil Pagliarulo and lead quest designer Will Shen held a Q&A session on the official Bethesda Discord server (which was then summarised on the Starfield Wiki).
A total of 16 questions were answered, covering a wide range of topics such as buying houses and recruiting companions.
Although the full answers can be found on the Starfield Wiki, some of the key information provided included the following:
Players can buy houses in "all the major cities in the game", and there's "at least one" given for completing a certain task.
Some items, such as "harvested organs", are considered 'contraband' and have to be smuggled past security ships. There are "special ship modules you can purchase" to hide them.
Players can be arrested and can decide whether to go to jail or pay a fine.
Time only passes while actively playing – it's not possible to set up trade routes, outposts and mining operations and have them continue to produce while the game is off.
All of the playable factions "can be completed independently", and if players choose to join the United Colonies military there's a mission which sees them being an undercover agent working for the Crimson Fleet.
Although it's "not totally feasible" to play through the game without killing anyone, there are some systems in place to redcue the amount of killing if needed. One example is the "Speech Challenge game", where players can persuade people not to fight them.
There are over 20 named characters who can join the player's crew.
Bethesda announced on Wednesday that Starfield had gone gold ahead of its release next month, indicating that the main development of the game has been completed, and that it's ready to move to the manufacturing stage.
It also confirmed that players can preload the game on Xbox Series X/S starting today, and on Steam on August 30.
Starfield was originally scheduled to be released last November, but in May of 2022 the game was delayed to the first half of 2023. Bethesda announced a further delay this March, with Starfield now set for release on September 6, 2023.
Related Products
Other Products
Some external links on this page are affiliate links, if you click on our affiliate links and make a purchase we might receive a commission.