Stardew Valley's creator is working on 2 new games
Both projects are linked to the Stardew Valley world, says Barone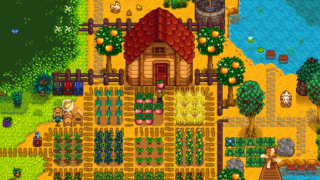 Stardew Valley creator Eric Barone has revealed he's working on two new game projects tied to the world of the hugely popular farm RPG.
Barone tweeted on Tuesday that the first project he's working on is not a farming game, but takes place in the world of Stardew Valley. The second project will also tie into Stardew Valley in some way, he said.
In a follow up interview with IGN, the solo developer revealed further details on the projects, but clarified that he didn't want to reveal too much at this stage.
"I'm purposely staying very vague about my new projects because I don't want to create a bunch of hype yet," he said. "I like to work in peace without having pressure or external opinions about what I should do."
Barone said that both of his in-development projects are single-player, top-down 2D games with pixel art styles, which will be "familiar for anyone who has played Stardew Valley."
He described the first game listed in his tweet as "an ambitious project" that has been in slow development for several years. The second project is something Barone started more recently, "just as a little thing to have fun with."
Barone emphasised that he's working on the unannounced projects alongside Stardew Valley updates, so it could be a while before the public sees them.
"I spend almost every waking hour working on something," he said, joking that because being a solo-developer drastically stretches out development time, "I am thinking about what games I might release 'this decade.'"
Stardew Valley has sold over 10 million copies across all platforms.
Related Products
Other Products
Some external links on this page are affiliate links, if you click on our affiliate links and make a purchase we might receive a commission.