StarCraft FPS reportedly axed to focus on Overwatch 2, Diablo 4
Report claims new games will be announced at BlizzCon in November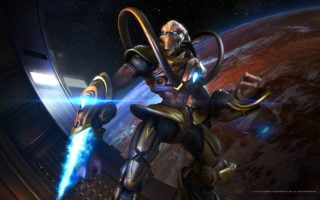 Blizzard has reportedly cancelled a StarCraft shooter in order to invest more resources in other projects, namely Overwatch 2 and Diablo 4.
That's according to a Kotaku report sourcing three people said to familiar with events at the Blizzard, which is said to be planning to announce the new Overwatch and Diablo games at BlizzCon in November.
Blizzard president J. Allen Brack recently said the studio's looking into the possibility of expanding the Overwatch universe with new games, while noting that the company has more titles in development that at any point in its near 30-year history.
Kotaku's report claims the StarCraft shooter had been in development for two years and was cancelled alongside an unannounced mobile project. It was described by one source as "like Battlefield in the StarCraft universe".
It also claims to have heard that the new Overwatch game will feature a large PVE element, with multiple sources comparing it to Left 4 Dead.
Blizzard previously cancelled a third-person shooter set in the StarCraft universe. StarCraft: Ghost was announced in 2002 before being axed in 2006.
Blizzard offered a lengthy statement in response to the report, which included the following comments: "We always have people working on different ideas behind the scenes – including on multiple projects right now – but the reason we tend not to discuss them publicly is because anything can happen over the course of development.
"As has been the case at Blizzard numerous times in the past, there is always the possibility that we'll make the decision to not move forward on a given project."
It added: "We always make decisions about these things, regardless of the ultimate outcome or how things might be interpreted, based on our values, what we believe makes sense for Blizzard, and what we hope our players will enjoy the most."