Starbreeze shows off hidden Payday 3 trailer after nobody finds it
"For a community who claim to love easter eggs, you sure are taking a while finding our latest one."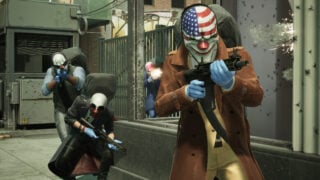 A new trailer for Payday 3 was so well hidden that the developers have had to show it off themselves.
The new stealth trailer was hidden on the game's official website. In order to find it, you had to click on the original gameplay trailer, and then turn the volume down while you watched it.
However, according to PC Gamer after five days of this video being on the website,  Starbreeze decided to release the trailer on its social media platforms.
The Payday Twitter account had previously teased the existence of the trailer writing: "For a community who claim to love easter eggs, you sure are taking a while finding our latest one."
Payday 3 will require an online connection to play the game, even in  single-player.
Speaking on a livestream, Starbreeze's global brand director Almir Listo confirmed that the game, which offers both multiplayer and single-player gameplay, will require an online connection regardless of which mode is chosen.
In our recent preview of Payday 3 we said: "We can foresee getting the perfect stealth heist on the game's highest difficulty to be a Sisyphean challenge for some friend groups, but for others, it's a whole new level of replayability for the game.
"Payday 3 seems like it has all of the ingredients necessary to pull off its lofty goal of emulating the classic heist films of Hollywood, but the question remains whether its new stealth systems will be fully embraced by a player base that has gotten so used to the 'shoot first, ask questions later' action of the previous games."