Star Wars: The Skywalker Saga records the biggest UK Lego game launch ever
It comfortably outpaces the previous record holder, Lego Indiana Jones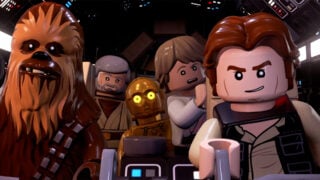 Lego Star Wars: The Skywalker Saga recorded the biggest UK launch for a Lego game to date.
Based on physical sales alone, it beat the previous record holder, 2008's Lego Indiana Jones, by 8.4%, according to GfK data published on GamesIndustry.biz.
It sold more boxed copies at launch than Horizon Forbidden West and Elden Ring managed but it couldn't match 2022's fastest-selling title, Pokémon Legends: Arceus.
Lego Star Wars: The Skywalker Saga video review
The PS5 version accounted for 31% of the game's launch sales, ahead of Nintendo Switch (26%), Xbox (23%) and PS4 (20%).
The Lego game franchise launched in the UK in 1997 and is the fifth biggest brand in physical sales behind only FIFA, Call of Duty, Mario and Grand Theft Auto.
"The current all-time unit sales No.1 is Lego Marvel Super Heroes, followed at No.2 by Lego Batman and at No.3 by Lego Indiana Jones," said GfK games boss Dorian Bloch.
"Then it's two Star Wars titles: Lego Star Wars 2: Original Trilogy at No.4 and No.5 is Lego Star Wars: The Complete Saga. All of which have grossed over 1m units in the UK and between £27m to £34m in box revenue."
Digital sales of Lego Star Wars: The Skywalker Saga are also expected to be high. The game made a strong start on Steam, beating the previous record for concurrent players on any Lego game on the service by 1200%.
VGC's Lego Star Wars: The Skywalker Saga review called it the best Lego game to date and one of the best Star Wars games ever.