Star Wars: Squadrons has leaked via the Microsoft Store
Update: EA announces the game ahead of a reveal trailer coming on Monday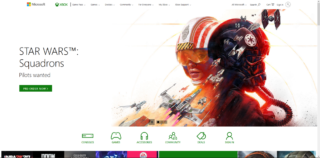 A new Electronic Arts game called Star Wars: Squadrons has seemingly been leaked via the Microsoft Store.
According to ResetEra users, the advert above was briefly listed on the Xbox marketplace on Friday, presumably in error, before it was pulled.
If authentic, it's reasonable to assume the game will be announced during the delayed EA Play Live showcase on June 18, which promises to deliver "world premieres, news and more".
Star Wars: Squadrons could also be the final name for Star Wars: Project Maverick, which was recently added to the PlayStation Network.
Update: According to VentureBeat sources said to be familiar with the PC and console game's development, Squadrons is the title previously known as Project Maverick and it's planned for release this autumn.
It's described as an aerial/space combat game which includes a single-player campaign but is primarily focused on multiplayer battles.
The report's author also claims that while a Mass Effect Trilogy remaster is still coming, there's "a strong likelihood" that it won't be announced at EA Play.
It's been reported that EA will start teasing a Battlefield 3 remaster and announce EA Sports UFC 4 at next week's digital event too.
Update 2: EA has officially announced the game ahead of the release of a reveal trailer on June 15.
Original story continues: A recent Kotaku report claimed EA has two Star Wars games in development, a sequel to Respawn's Star Wars Jedi: Fallen Order and "a smaller, more unusual project" at EA's Motive Studios in Montreal.
It also suggested EA had cancelled a third in-development Star Wars game in as many years. EA Vancouver and Criterion were reportedly planning a spin-off to the Star Wars: Battlefront series for release this year, codenamed Viking.
However, it's claimed that once EA executives discovered the release timing for Viking was unrealistic, it decided to cancel the project.
EA's now closed Visceral studio also spent two years developing a Star Wars heist game called Ragtag under director Amy Hennig before it was cancelled.
Another Star Wars project, Orca, was then spun off of Ragtag and reused some assets before its cancellation in 2018.