Star Wars Republic Commando is coming to PS4 and Switch in April
Aspyr Media is behind the upcoming port of the classic game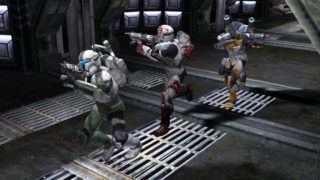 An updated version of Star Wars Republic Commando will be released for PlayStation 4 and Nintendo Switch on April 6, Aspyr Media has announced.
Originally developed and published by LucasArts for Xbox and PC in in 2005, the classic game is a tactical first-person shooter with squad commands.
Players take on the role of RC-1338, AKA Boss, the head of an elite squad of Republic Commandos who wields a blaster rifle and leads a team of clone troopers that can be commanded to execute manoeuvres like demolitions, door breaches and search and destroy orders.
"We've done our best to faithfully recreate the original Star Wars Republic Commando feel with a few modern twists," Aspyr marketing specialist Mallie Rust told PlayStation Blog.
"What worked in 2005 doesn't translate perfectly to modern hardware. That's why we updated the controls to feel just right on the DualShock 4 and DualSense controllers (playable on PS5 via backwards compatibility).
"Of course, no Aspyr port would be complete without new trophies to hunt," Rust added. "As you make your way through the game's you'll earn trophies for everything from completing campaigns to fending off droids.
"My personal favorite is Squeaky Clean, which you can earn by keeping your tactical visor (you guessed it) squeaky clean."
Aspyr was also responsible for PS4 and Switch ports of Star Wars Jedi Knight: Jedi Academy and Star Wars Episode 1 Racer, which released in March and May 2020 respectively.