Star Wars KOTOR movie reportedly in the works
It's claimed the film's currently being written as a potential trilogy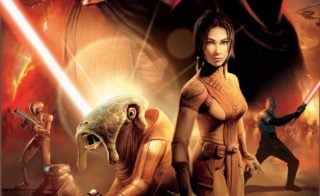 Disney is reportedly working on a new Star Wars movie based on Knights of the Old Republic.
That's according to Buzzfeed sources, who claim it's being written by Laeta Kalogridis, who previously wrote or co-wrote the screenplays for Shutter Island, Terminator Genisys, Alita: Battle Angel and Altered Carbon.
Released in 2003, fan-favourite RPG KOTOR tells a Jedi versus Sith story set some 4,000 years before the rise of the Galactic Empire featured in 1977's Star Wars film.
Buzzfeed claims Kalogridis has almost finished the first script of a potential KOTOR trilogy, although whether it will go anywhere remains to be seen.
At Star Wars Celebration in April, Lucasfilm president Kathleen Kennedy was asked if fans hoping to see a KOTOR film might one day get their wish.
"You know, we talk about that all the time," she told MTV. "Yes, we are developing something to look at.
"Right now, I have no idea where things might fall, but we have to be careful that there is a cadence to Star Wars that doesn't start to feel like too much," she cautioned.
"We don't have a crystal ball, you know we tried a little bit with Solo to see if we could do two movies a year and whether or not there was really an opportunity for that and we felt that's not going to work so we backed off of that a little bit.
"But it doesn't mean we don't think about lots of different stories because that's the exciting thing about this universe," Kennedy added.
Following Star Wars: The Rise of Skywalker's release later this year, the next movie entry in the franchise will be released in December 2022. It'll be the first of a new trilogy directed by Game of Thrones creators David Benioff and D.B. Weiss.
VGC recently spoke to KOTOR 2 writer and designer Chris Avellone about his return to the franchise as a writer on Respawn's upcoming Jedi: Fallen Order game, and got his thoughts on the most recent Star Wars film, The Last Jedi.