Star Wars Episode I Racer announced for Switch and PS4
Classic podracing game will feature updated controls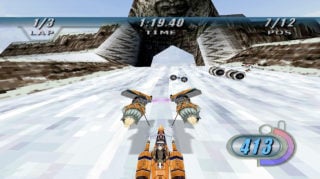 Star Wars Episode I Racer has been announced for Nintendo Switch and PlayStation 4.
Originally developed and published by LucasArts in 1999, the game's based on the podracing sequence featured in Star Wars: Episode I – The Phantom Menace, which also hit cinemas that year.
It's been updated with modern controls by developer Aspyr, which also handled the Switch and PS4 port of Star Wars Jedi Knight: Jedi Academy, which released today.
Star Wars Episode I Racer key features
25 playable racers including: Anakin Skywalker, Sebulba, and Ratts Tyerell
Race tracks spanning 8 unique worlds including: Tatooine, Baroonda, and Malastare
Work with pit droids to upgrade your podracer for higher top speeds and acceleration
Discover short-cuts and secrets to master your lap times
Split-screen multiplayer (Nintendo Switch and PlayStation 4) and LAN multiplayer (Nintendo Switch)