Star Fox developers celebrate the series' 30th anniversary
Nintendo's rail shooter was a graphical milestone in the 1990s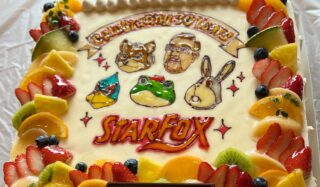 Nintendo's Star Fox series celebrates its 30th anniversary today.
The original Star Fox was released on the Super Famicom in Japan on February 21, 1993, then came to North America in March and Europe in June.
Takaya Imamura, the former Nintendo artist who designed Fox McCloud and other characters in the original game, tweeted a new illustration to mark the occasion.
"Thank you for supporting me for over 30 years, Fox," he wrote. "And everyone involved in the games you've appeared in! Thank you!"
Q-Games CEO Dylan Cuthbert, who co-programmed Star Fox while working at UK developer Argonaut Software, also celebrated the game's 30th anniversary with a special cake.
Star Fox was partially inspired by the Fushimi Inari-taisha shrine, which is close to Nintendo's headquarters. In a 1993 interview for Channel 4 science documentary series Equinox, Shigeru Miyamoto said he used to regularly visit the shrine, with its many Torii gates, and imagine flying a spaceship through them.
The shrine also has a statue of a kitsune – a fox with paranormal abilities – which would ultimately inspire the design of Fox McCloud.
Star Fox quickly gained a following due to its pioneering Super FX chip, a 3D graphics chip included in the cartridge which enabled the SNES to produce polygonal graphics.
While polygonal games had been around for numerous years (particularly on home computers), for many console players, Star Fox was their first introduction to the world of 3D video games.
By the time its sequel Star Fox 64 arrived, polygonal gaming had become the standard. Instead, the N64 title brought with it a new innovation – the Rumble Pak, a device which was included with the game and provided force feedback to the N64 controller.

Players looking to try out some of the Star Fox series can do so via the Switch Online subscription service.
The SNES library on Switch Online includes both Star Fox and its unreleased sequel Star Fox 2, while Star Fox 64 is part of the N64 library, which can be accessed through the Switch Online Expansion Pack tier.
Last year Imamura called on Nintendo to port Wii U title Star Fox Zero to the Switch. Zero remains one of the few first-party Wii U games yet to be ported to Nintendo Switch. As one of the more divisive Nintendo releases of recent years, it could also benefit more than most from a remaster.
Related Products
Other Products
Some external links on this page are affiliate links, if you click on our affiliate links and make a purchase we might receive a commission.