Star Fox artist's new Switch game has secured a publisher
Takaya Imamura's Omega 6 The Video Game will be shown at Tokyo Game Show this week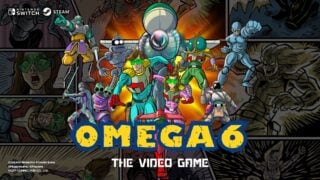 Omega 6 The Video Game, the new title from original Star Fox and F-Zero artist Takaya Imamura, has been signed by a publisher and is scheduled for release on Nintendo Switch and Steam in 2024.
Imamura, who left Nintendo in 2021 after three decades, is leading the art direction and graphics for the game, which is an adaptation of his debut manga, Omega 6.
A text-based adventure game with 16-bit styling, Omega 6 The Video Game is in development at Happymeal and Pleocene, and is set to be published by Embracer's Clear River Games along with publishing partner City Connection.
The game will also feature an original soundtrack by Japanese composer and sound designer Shinobu Amayake, another former Nintendo employee perhaps best known for composing the music to Stunt Race FX.
Omega 6 The Video Game will debut on the show floor of the Tokyo Game Show, which is running form September 21-24.
"Omega 6 The Video Game features a brand new story, taking players on an intergalactic journey to locate a new home for the human race," according to Clear River Games.
"With adventure around every turn, the path rarely runs smoothly for voyagers Thunder and Kyra, who, joined by their robot Prop and alien Flavo, are forced to embark on a dubious treasure hunt in the ruins of a strange planet to settle their mounting debts."
Speaking exclusively to VGC earlier this year, Imamura explained the similarities between Omega 6 and Star Fox.
"Story-wise, it's different, but the style I draw, which is like a 'retro future', is similar," he said. "That's the only thing I can draw – that's my style – so I didn't change it! I've always wanted to draw manga with this style, so I just applied it from my past games."
Related Products
Other Products
Some external links on this page are affiliate links, if you click on our affiliate links and make a purchase we might receive a commission.