Star Citizen fans react angrily as 'biggest update yet' launches with widespread issues
The game has been in alpha since 2015 and crowdfunded over $500 million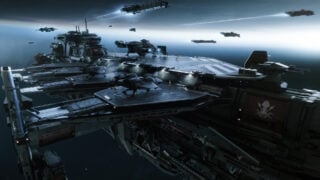 The latest major update of crowdfunded space sim Star Citizen has been causing sizeable issues for players, resulting in a backlash from the game's fanbase.
Star Citizen launched as a Kickstarter campaign in late 2012, and raised $2.1 million at the time. In the decade that has followed, the game has remained in 'alpha' state, and has continued to generate revenue through crowdfunding, with over $500 million raised to date.
Alpha build 3.18 was released on Friday, promising what developer Cloud Imperium Games claimed was the "biggest Star Citizen update yet".
However, players quickly started complaining that they were unable to log into the game, with those able to connect reporting major bugs.
Star Citizen alpha 3.18 trailer
Shortly after the update launched, the game's status report page warned of a "partial outage" on Saturday, stating that the game's launcher could become unresponsive due to high traffic.
This was followed later in the day by a message reading: "We are currently investigating an issue preventing users from logging into the RSI Issue Council." By Sunday the issues had continued to escalate, and on Monday the game's service status was updated to 'major outage'.
The latest update, posted today, reads: "Since the launch of Star Citizen Alpha 3.18.0 our teams have been monitoring a number of issues players have been encountering while attempting to log into the game. These have primarily manifested in the form of 19003 and 19004 with a mix of other similar codes.
"While monitoring those issues, the team has been able to tune and make adjustments to the entitlement processing flow to ensure that a large portion of player attempts were still successful and able to make it into the Persistent Universe. However, at a point in the early morning UTC, the environment entered into a state which would require a more disruptive recovery process.
"As of 1300 UTC on 2023-03-12 the environment has been in the process of recovering from the slow / non-responsive state it was in but we wanted to advise that, while this recovery effort is in-progress, players will experience periods of extreme difficulty getting into the Persistent Universe."

The game's Reddit page and official forums are filled with players complaining that they can't connect, while those who have managed to log in have been suffering other issues.
Ina forum thread titled 'Seriously?', user AdmialGrogan complained: "Why release this buggy disaster on a Friday afternoon? I've been trying for four days to log in. 19k, 60k, 30k errors. Dozens of login attempts. Managed to get in once for 10 minutes and nothing could be interacted with. Terminals didn't work, Ship controls… missions… nothing. And then a 30k crash.
"This is embarrassingly bad, even by Star Citizen standards. I've been a backer since day one. I'm not going anywhere. But after all this time we don't have our shit together to release a mess like this?
"Yeah yeah its an alpha, blah blah blah. The issue I have is, after this many years,why are these same problems happening every single patch? How many more years of 30k errors will we have to endure?"
While some users have been defending the studio, reminding other players that the game is still in alpha, others have been arguing that the game's long development time, combined with no proper release date in sight, means this excuse shouldn't be valid.
"I think the reactions are more based on the fact that its been in production for over a decade, has gained close to 600 million in funding, and we dont have much more than a flaming pile of white hot garbage," said Reddit user Own-Second2228.
"Regardless of what this patch did or didn't do doesnt change the fact that almost every aspect of this game is broken in some way shape or form and has been. Don't get me wrong, I will continue to wait with patience and understanding. It just seems like they should offer us a little something more refined to pass the time."
User Masabera added: "I invested more money in this game than in any video game I have ever played before (which is a lot). I do not regret it, because for me playing this game is like when other people enjoy an expensive whiskey or wine.
"However, I do not expect this game to become what most people expect. Especially considering the fact, that not even the leaders seem to have a clear idea what the end-game will be like."