Stadia founders can now invite a friend to try it for free
Founder's Edition owners begin receiving Buddy Passes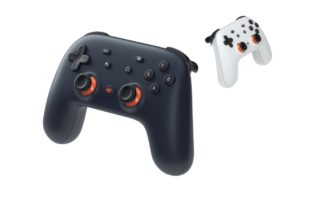 Google has begun distributing Stadia Buddy Passes, which enable the holder to give a friend three months access to Stadia Pro for free.
Buddy Passes are rolling out to those who purchased the Stadia Founder's Edition, and can be sent to a friend in the form of a code via the Stadia app.
Friends do not require a Stadia controller and have three months to redeem their code.
Stadia Pro will normally cost $9.99/£8.99 per month and offers 4K/HDR streaming with 5.1 surround sound and approximately one free game per month.
All current Stadia customers who've purchased the premium Founder's Edition and Premiere Edition receive three months of Stadia Pro as part of their package.
The Stadia Pro launch line-up includes Destiny 2: The Collection and Samurai Showdown, while December's free games will be Tomb Raider: Definitive Edition and Farming Simulator 19.
Much like Xbox Live Gold and PlayStation Plus, Stadia Pro members continue to have access to a free games catalogue for as long as they subscribe to the service.
Google is also offering refunds to users who've already purchased either of December's Stadia Pro games.
"Because of the proximity between the launch of the platform, and the announcement of these titles in Stadia Pro, we're happy to assist you if you'd like to request a refund if you have purchased either or both of these titles, even if it's outside of our normal policy," it said.
Stadia launched in 14 markets on November 19. Google confirmed ahead of release that a number of Stadia features would be missing at launch including Buddy Passes, family sharing, 4K streaming on PC and an achievements UI.
Some Stadia reviews say it feels as though the product has been rushed to market and Google has lots of work to do if the platform is going to fulfil its potential.
It was claimed this month that Amazon is preparing to announce its own game streaming service to rival the likes of Stadia, xCloud and PlayStation Now.