Stadia and BT deal will 'push the limits of cloud gaming'
Telecoms company becomes Stadia's first European distribution partner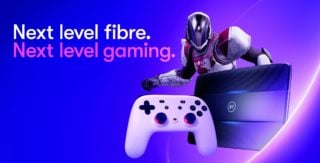 Stadia and BT have announced a strategic collaboration which the companies claim will "push the limits of cloud gaming".
The British telecoms firm has become Stadia's first European distribution partner in a move which will see the pair promote deals for fibre broadband coupled with Google's new games platform.
Stadia lets players stream games to a TV, computer, tablet or mobile phone, with users requiring a minimum internet connection speed of 10 Mbps per second to avoid issues, while a network speed of 35 Mbps or greater is needed to play in 4K resolution.
Customers who take out selected BT packages beginning at £39.99 per month and offering average speeds starting at 67 Mbps will receive a free Google Stadia Premiere Edition, which retails separately for £119, if they sign up by January 30.
A range of new Stadia offers will then be introduced on February 7, with BT set to run an advertising campaign across print, TV and digital.
Google said on Thursday it expects to add over 120 titles to Stadia this year, and that it's "targeting more than ten" timed exclusive releases in the first half of 2020.
Earlier this month BT announced a multi-year sponsorship agreement with UK-based gaming and esports entertainment brand Excel Esports.