Square Enix is considering creating 'HD-2D' remakes of more SNES games
Live a Live was selected as one classic title to get the same art style as Triangle Strategy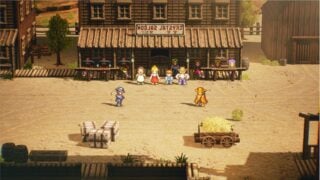 Square Enix is considering other classic games from its 16-bit catalogue to create 'HD-2D' remakes for, it's said.
HD-2D is what Square Enix uses to describe the art style given to its Switch games Octopath Traveler and Triangle Strategy.
The style places 2D sprites in a 3D world, designed to look like an 'HD' take on the SNES era.
As reported by Famitsu, during a new 'radio' show on Square Enix's Japanese YouTube channel, developers working on Triangle Strategy confirmed that Square Enix president Yosuka Matsuda wants the studio to use the art style to remake SNES games.
This includes a remake of Japan-only Super Famicom release Live A Live, which was announced during the last Nintendo Direct presentation and reimagines the 16-bit original in the HD-2D art style.
"The president ordered us to make more use of HD-2D, so we decided to think about remakes of past titles," producer Tomoya Asano said.
"So we lined up possible titles and thought about which could be done in HD-2D, and brought them to the president."
Asano continued: "[The list included] titles released by Square and Enix for the Super Famicom – ones which were suitable for HD-2D, ones which were unsuitable for it, and ones which were impossible to play, like mahjong games."
"We lined up all of them and made a presentation that Live A Live was the most suitable. The second place was ActRaiser."
A modern remaster of ActRaiser was released on the Switch in 2021. Named ActRaiser Renaissance, it also presents the game in a new art style, though it's not clear whether Square Enix counts it as HD-2D, or whether that term is specifically for games like Octopath Traveler, Triangle Strategy and Live A Live.
Related Products
Other Products
Some external links on this page are affiliate links, if you click on our affiliate links and make a purchase we might receive a commission.