Square Enix delays Outriders again and announces free next-gen upgrades
People Can Fly's sci-fi shooter now coming to consoles and PC in February 2021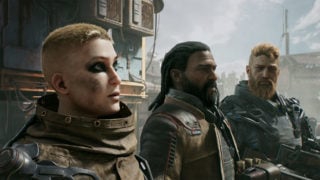 Square Enix has delayed Outriders for a second time, pushing the game from its most recent holiday 2020 launch window to early next year.
Originally announced at E3 2019 for release in the summer of 2020, Outriders is a 1-3 player co-op shooter from Bulletstorm developer People Can Fly.
The sci-fi game will now be released for PS4, PS5, Xbox One, Xbox Series X/S, and PC on February 2, 2021, with a Google Stadia version set to arrive later next year.
Square Enix confirmed on Thursday that Outriders will feature full cross-play compatibility across all formats.
It also said PS4 players will be able to upgrade to the next-gen version free of charge, as will Xbox owners with the game set to support Smart Delivery.
"We're taking a little bit longer to ensure players have the best possible experience with Outriders," said Lee Singleton, co-head of studio at Square Enix External Studios, in a prepared statement.
People Can Fly is also currently developing an "original AAA title" led by its New York studio and the director of Just Cause 3.